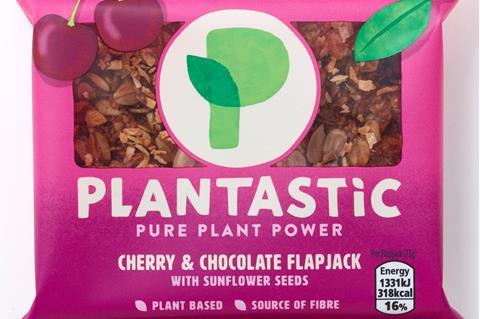 Premier Foods will this week roll out the first SKUs from Plantastic, the plant-based on-the-go brand it unveiled in the spring.
The four-strong lineup of single-serve snacks comprises Chocolate & Cherry Flapjack with Sunflower Seeds, Lemon & Turmeric Flapjack with Linseeds, Apricot & Ginger Flapjack with Chia Seeds, and Orange & Parsnip Cake with Pecans (rsp: £1.35/51g-73g). All feature a 'pure plant power' strapline and a 'source of fibre' claim.
Chocolate and lemon were flavours that "perform very well", said Premier marketing & innovation controller Kate Yateman-Smith, but the supplier wanted to give them "the Plantastic spin" and "make them more exciting". While the addition of parsnip in cake, for instance, was "a little bit out there", it was "a step further" from a basic carrot cake, she added.
Plantastic's snacks will be available from Friday (27 September), landing first in Tesco Express stores nationwide.
"Retailers will have already seen the significant rise in demand for these types of products, with sales of plant-based products having reached £3.4bn," Yateman-Smith said. "Plantastic is ideally positioned to help them meet shopper needs and capitalise on developing opportunities."
Premier unveiled the brand in May – created to capitalise on the growing trends of flexitarianism and veganism. It would go on to add further NPD to "ultimately span multiple categories to give health-conscious shoppers a consistent branded solution when seeking plant-based products on the go" the company said at the time.
MD Alex Whitehouse hailed "a ground-breaking launch for Premier Foods", which marked a "significant achievement for our technical team".