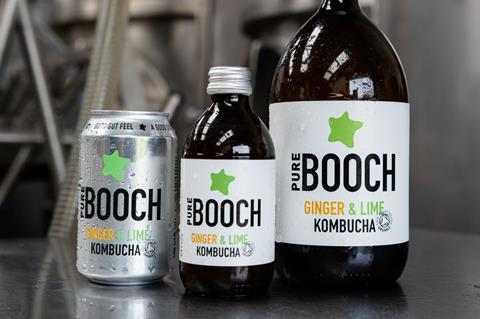 Craft brewer Purity Brewing Co is moving outside beer for the first time in its 18-year history.
The brand has unveiled a range of unpasteurised kombuchas called Pure Booch.
It has created four flavours – Original, Ginger & Lime, Cranberry and Grapefruit – which the brand said would "demonstrate the versatility of authentically brewed kombucha". They will roll out in 330ml cans, 250ml bottles and one-litre bottles.
Purity's Pure Booch range was brewed for 30 days using "a unique blend of green and black tea" before being fermented with sugar and a culture of bacteria and yeast. The drinks were made at a kombucha brewery in Birmingham, which had "become part of the award-winning Purity Brewing Co family", sad the brand.
Purity CEO Paul Halsey said: "As a long-term user of kombucha, I understand the health benefits but also the versatility it can bring. Being a brewed product it felt natural to bring a kombucha into the Purity portfolio.
"With kombucha now recognised as one of the fastest-growing drinks categories in the UK, we see this investment as a fantastic opportunity for both Purity Brewing Co and Pure Booch."
Being "a live authentic brewed kombucha", Pure Booch should always be stored cold and served chilled, said Purity.
Pasteurisation has become mildly controversial in the fledgling kombucha sector.
Many smaller kombucha brewers argue pasteurising the drinks (as well as adding sweeteners and other ingredients) is incompatible with the core principles of traditional kombucha brewing, which only uses four ingredients – water, tea, sugar and kombucha culture.