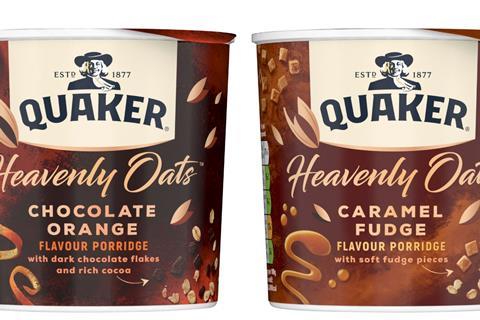 Quaker is targeting commuters with a lineup of non-HFSS instant porridge pots.
Called Heavenly Oats, the range will debut with two variants: Caramel Fudge and Chocolate Orange (rsp: £1.15/58g-59g).
Caramel Fudge features "gooey" fudge pieces, while Chocolate Orange comprises "rich" cocoa and dark chocolate flakes, said Quaker.
Both boasted an improved texture and were made with a new blend of jumbo and rolled oats, resulting in "a deliciously creamy porridge" with "larger, more visible oat flakes".
Set to roll out on 15 August, Heavenly Oats aimed to capitalise on the resurgence of convenient breakfast options, the brand explained. The two pots tapped demand for "great-tasting breakfasts", with taste being "the number one driver for more active breakfasts".
The new range had been developed to lure young adults to the brand, added Quaker Oats marketing director Corrine Chant.
Aimed "squarely at slightly younger buyers", they were "the kinds of flavours that will really tempt you in and when you try it, you realise how good it is and hopefully you will then shop the rest of the range", she said.
It comes after Quaker expanded its lineup with a duo of fruity, non-HFSS instant porridge in a sachet.