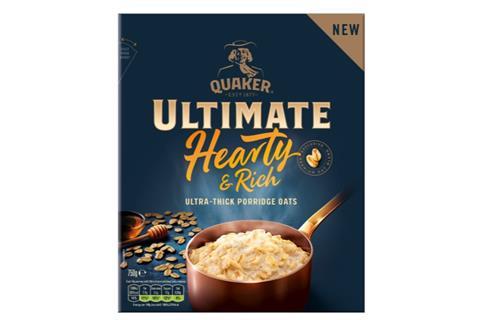 Quaker is hoping to tap the premium breakfast category with its thickest and "most luxurious" porridge yet, it claimed.
Called Ultimate Hearty & Rich Oats, the NPD contained a blend of different oats that had been "carefully selected to offer an exceptional breakfast experience", said Quaker.
These included the Conway oat variety, which is exclusive to Quaker and must pass over 40 quality checks before being rolled and kilned, it added.
The packaging, which "clearly demonstrates" the quality of the product, would help it stand out as a "luxury option" on shelf, said Quaker.
It will be available at Ocado from the end of this month and will roll into supermarkets in July (rsp: £2/750g).
The NPD would help retailers capitalise on the success of premium oats and grow their breakfast sales, said Quaker.
It cited Nielsen data which showed that the premium oats market was worth just under £30m [52 w/e 19 September 2020].
The launch comes as the brand's sales were down 11% over the 52 weeks to 15 May 2021, which Quaker stressed was "in line with other cereal brands" [Nielsen].
However, it said growth over the last four weeks of that period had been "highly positive" at 5.6%.
"Those purchasing premium porridge are looking for more than just a functional meal, but also a breakfast that delivers an elevated taste and experience – they want a porridge they can savour", said Liz Ashdown, senior marketing portfolio lead at Quaker.
As Ultimate Hearty & Rich can only be cooked on the hob, consumers will "enjoy the experience of transforming the oats into deliciously creamy porridge", she added.
It follows Quaker's recent launch of its Vibrant Oats – a range of fruity and colourful instant porridge sachets intended to "brighten people's mornings" (rsp: £2.39/6x38g).