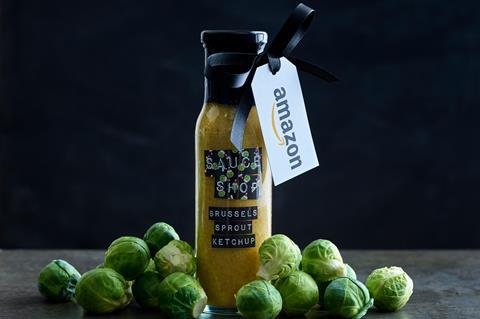 Artisanal condiments brand Sauce Shop has teamed up with Amazon to launch a limited-edition Brussels Sprout Ketchup.
Each bottle contains about 15 British brussels sprouts – chosen for their "sweet, nutty flavour" according to Sauce Shop. They have been blended with cloves, nutmeg and cinnamon to give the tasting notes of braised red cabbage.
Available now for pre-order from Amazon's UK site, the festive table sauce (£3/255g) will begin shipping on 2 December.
"Our mission has always been a pursuit of flavour, which can only be achieved using high-quality, natural ingredients," said Sauce Shop co-founder Pam Digva. The Amazon-exclusive sprout ketchup was "testament to the versatility of this highly nutritious, seasonal vegetable, which has more vitamin C in one sprout than in an entire orange".
Amazon was "delighted to offer our customers this unique festive treat as part of our collaboration with Sauce Shop" said the retailer's UK director of grocery, James Bate. "We're sure this delicious ketchup will change the minds of some of the humble sprout's harsher critics."
It comes after Nottingham's Sauce Shop extended its range in Sainsbury's in October, as part of the supermarket's Future Brands incubator initiative.
In the summer, Sauce Shop, which launched in 2014, turned to the crowd for £250k to scale up production and meet "huge" customer demand for its condiments. Its Crowdcube drive eventually raised £254k in exchange for 7.6% of equity.