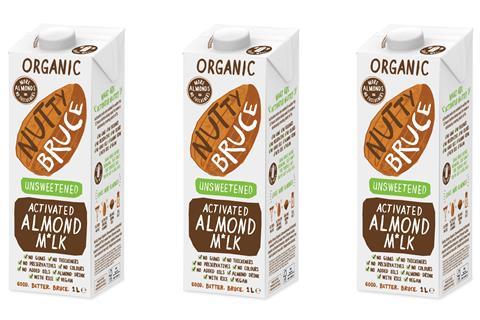 Soulfresh is claiming a UK first with the launch of activated nut milk brand Nutty Bruce.
Three SKUs – Activated Almond M*lk, Activated Almond & Coconut M*lk and Activated Almond & Oat M*lk – will hit Whole Foods Market and Planet Organic in March (rsp: £2.25/one litre).
Almonds used to make the milks are soaked for 12 hours in fresh filtered water, which the brand said "kick-started" the germination process. They are then dried and blended with filtered water and organic ingredients such as brown rice, sea salt and coconut or oats.
Activated nuts were "closer to being alive", giving them "increased nutrient value", claimed Nutty Bruce, adding it wanted to "shake up the way that Brits have been enjoying the power of plants".
In Australia, Nutty Bruce was already "one of the leading plant milks in the market", said the brand, with 34.7% market share over the quarter to August 2019 [IRI 13 w/e 11 August].
"This innovation will see us bring a differentiated product to market and help to grow the category in the UK by replicating Nutty Bruce's success in Australia and New Zealand, where the brand has rapidly risen," said Soulfresh general manager Dom Dalton.
It comes just two months after Soulfresh netted a £26m cash injection from investment firm True.
The deal saw True take a 43% share in Soulfresh, and installed former Grenade chairman and Burton's Biscuit Company CEO Ben Clarke on its board as an independent chairman.