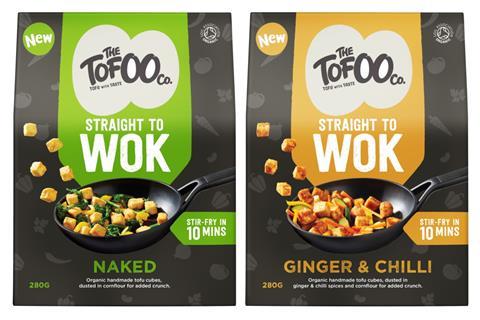 The Tofoo Co has added a duo of frozen 'straight to wok' tofus.
The NPD comprises cubes of tofu coated in cornflour to give them a "crispy crunch" when fried, and has rolled out in two flavours: Naked and Ginger & Chilli.
The brand created the duo with an eye to removing "the faff and fiddling prep associated with cooking with tofu" which it said was putting some shoppers off using the ingredient. They will hit Waitrose at the end of December followed by Tesco and Sainsbury's in 2022 (rsp: £3).
"Driven by the pandemic, more consumers than ever are scratch cooking but are still looking for products that can be ready quickly while delivering on taste," said Tofoo Co founder David Knibbs, adding he hoped the NPD would be "similarly received" to its prior frozen launches.
The brand made its debut in the frozen category in January 2020 with the launch of Frozen Chunkies, and has since expanded its presence in freezers with a range of Original and Spicy Bites and Spicy Chunkies.
2020 also saw it mount a major expansion of its production capabilities, with the installation of a new soy milk cooker it said would increase production by 70% and help increase its turnover from £14m to almost £20m per year by this year.