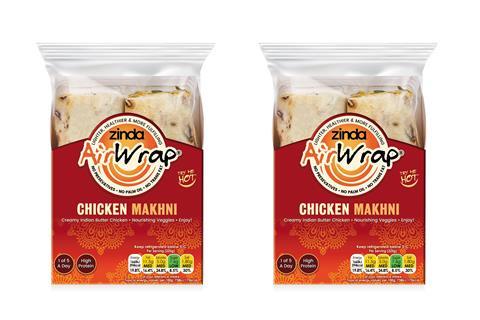 Zinda Foods is launching a Chicken Makhni Air Wrap into Tesco stores this month.
The wrap comprises chicken in Zinda's butter chicken sauce with shredded cabbage and carrots encased in the brand's signature Air Wrap base.
The Air Wrap, which Zinda debuted in 2018, is billed as being the UK's first natural artisan wrap base. It claims to be high fibre, low carb and high protein and is made with no palm oil, trans-fats or preservatives.
The Chicken Makhni Air Wrap had been developed in collaboration with Michelin star chef Alfred Prasad to offer shoppers "a world-class eating experience designed to transport them to their favourite Indian restaurant", it added.
It hit 62 Tesco stores this week (rsp: £2.75/225g).
Zinda hopes the wrap, which will be available as part of Tesco's meal deal, will tap changing consumer demand for "more interesting" food-to-go options.
"We felt encouraged to see the strong rate of sales in Tesco for our bolder, vibrant flavours," said Zinda Foods founder and MD Anishya Kumar.
"We are now confident the time seems right to introduce an equally exciting flavour and keep the momentum going."