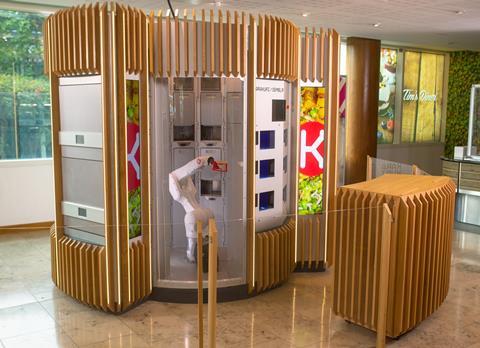 A robot is preparing hot and cold lunches for Ocado's 4,000 corporate staff at the company's headquarters in Hatfield.
It is the first deployment of tech company Karakuri's Semblr robot, which is offering visitor's to Ocado canteen 'Tim's Diner' a choice of 2,700 different combinations of ingredients.
Users place their customised orders from their phones and are able specify down to the gram what hot and cold items, proteins, sauces and fresh toppings are included. The robot – formerly known as the DK-One – individually prepares each meal, selecting from 17 hot or cold ingredients that are each weighed to match the customer order. The company claims its robot can output 110 meals per hour.
"Putting our robot in action in a busy dining room for the first time marks a huge milestone for everybody at Karakuri," said Barney Wragg, CEO and co-founder of Karakuri. "We've come a long way in two years and our mission remains the same – to develop robots that support the hospitality and catering industry and improve the experience for both hospitality operators and customers."
Karakuri's robot had been due to debut at Ocado HQ in autumn last year preparing free breakfast bowls for staff, but the trial had to be delayed due to coronavirus meaning many Ocado staff were working from home.
The robot will be loaded with food by Angel Hill Food Co, the corporate catering division of Atalian Servest.
"Ocado and Karakuri share a vision of automating key elements within the food value chain; this real-life installation is an exciting and long-anticipated moment," said Stewart McGuire, head of corporate development and strategy at Ocado Group. "Karakuri is developing systems that sit at the intersection of food, people and technology, and we are delighted to help make their vision a reality."
Karakuri – which takes its name from traditional Japanese mechanised puppets – was founded in 2018 by Barney Wragg and Simon Watt, two friends who had worked together at computer chip design business Arm. Ocado acquired a minority stake in the business in 2019.
"As demonstrated by us opening up our canteen, our investment goes beyond financial support, and this 'living lab' gives Karakuri a way for them to perform stress-tests in a production environment," McGuire said. "Plus, we get to give our staff a sneak peek at the potential future of foodservice."