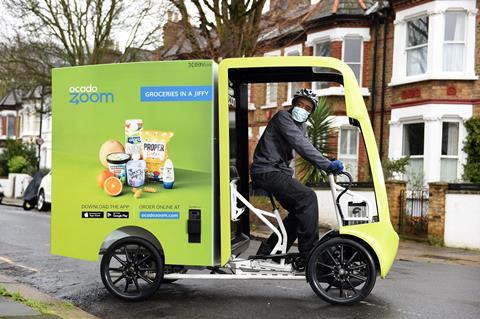 Ocado's rapid service Zoom is trialling several electric and pedal-powered vehicles to make deliveries to customers from its site in Acton, West London.
The trial – which started on January 28 – includes electric refrigerated vans, refrigerated electric assisted vehicles (EAVs) and pedal-powered cargo bikes.
Thanks to "innovative refrigeration capabilities" the vehicles can keep food fresh on journeys of 40 miles.
"This means they can deliver more orders per trip taken. More drop-offs during the same journey results in a more efficient delivery service and fewer vehicles on our roads," the company said.
"Every delivery made in these new zero-emission vehicles replaces the need for the use of a petrol van, car or moped," it added.
The electric assisted vans have been developed and supplied by Oxfordshire company Electric Assisted Vehicles and are both road legal and permitted to travel in cycle lanes. Each weighs 150kg and can reach speeds of up to 15mph. Drivers can use the vehicle's 'hold' button to maintain a speed of 6mph without pedalling. The pod on the vehicles has capacity to carry 10 full totes of shopping – the equivalent of two typical customer online grocery orders. However, Zoom orders are typically much smaller than a standard online shop, meaning more orders per vehicle.
The Electric Assisted Vehicles vans are the same type used in a trial by Asda in October to make online deliveries to customers from its Cambridge superstore.
The e-cargo bikes are of the same type previous used by Sainsbury's and Co-op to make rapid deliveries from London stores.
Its maker E-cargobikes says the vehicles can deliver the same quantity as a 3.5-tonne diesel van over an eight-hour shift, using only 0.38% of the energy.
While Zoom uses both its own fleet as well as third-party courier Stuart to deliver orders, the trial will be limited to Ocado's own riders.
"We're really excited to see a new generation of vehicles out on the road. We're committed to reducing our carbon footprint and being the best neighbour we can, whilst delivering groceries to our customers as fast as possible. This trial is an important step in what I hope will be a rapid expansion of our non-emitting fleet," said George Dean, head of Ocado Zoom.
Electric vehicles are also being used for Ocado.com orders, and their number is set to increase this year. Ocado Retail has set a target to become net zero by 2035.