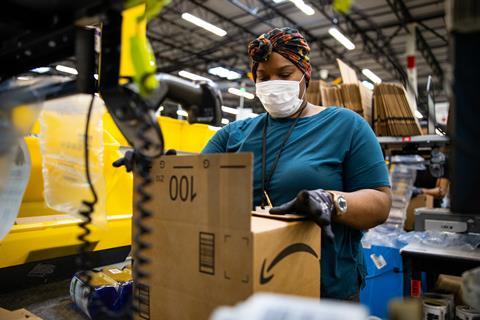 Sales of alcohol on Amazon.com have more than doubled this year, with further growth predicted thanks to the e-commerce giant's aggressive pricing strategy.
Analysis of alcohol sales data between July and October by Profitero shows a 121% increase compared with the same period last year. Much of the growth has been driven by spirits, with sales of gin and whisky in particular booming on the site.
"Alcohol has seen some of the highest growth, driven by aggressive pricing activity," Profitero VP strategy and insights Andrew Pearl told The Grocer.
Daily comparisons of identical products (with the same UPC, brand and pack configuration, and in-stock online) in the booze category between August and October this year found prices to be on average 11% lower on Amazon than at Tesco and Asda. Other supermarkets were not included in the analysis.
"UK supermarkets have tended to put a focus on strong promotions for beers and wines throughout the year, reserving pushes around spirits for the Christmas period. Amazon have realised that alcohol gifting and purchase – typically spirits – occurs throughout the year and not just at Christmas," said Pearl.
Total retail sales of alcohol have surged by 18.1% so far this year, according to Kantar, driven in part by closures of pubs and restaurants. Further sales growth is expected in the run-up to Christmas, with Amazon predicted to take a significant share.
Last year, alcohol sales surged 169% on Amazon in the two weeks to Christmas compared with the H2 average, according to Profitero. "This is likely to be even higher this year with lockdowns in place," Pearl said.
Separate analysis by Acorn-I, shared exclusively with The Grocer, found alcohol products have been searched for more frequently on Amazon UK this year compared to 2019. Comparing the last week of October in 2019 and 2020, 'gin' has risen in search rankings from top 40 to top 25, 'wine' from around 1,500 to around 800, and 'beer' from around 1,200 to around 600.
Alcohol was not the only category in which Amazon was found to be considerably cheaper than its supermarket rivals. Beauty products were found by Profitero's analysis to be, on average, 27% more expensive at Asda and 16% more at Tesco. Health and personal care – which includes shavers, electric toothbrushes and blood pressure monitors – were typically 28% more expensive at Asda and 14% more expensive at Tesco.
The comparison didn't account for delivery costs.
"Tesco and Asda look to be competing aggressively with each other, yet struggling to keep pace with Amazon's low prices," Pearl explained.
"Breaking into online grocery is clearly a long-term goal for Amazon, but so far only small inroads have been made into this highly competitive sector. Amazon appears to be focusing on certain categories that resonate strongly with their core Prime shoppers," he added.
An Amazon spokeswoman said: "Our customers expect to come to Amazon and find the lowest prices and we are obsessed with maintaining that customer trust. We do the hard work for them, finding the best prices out there and matching them for all customers every day."