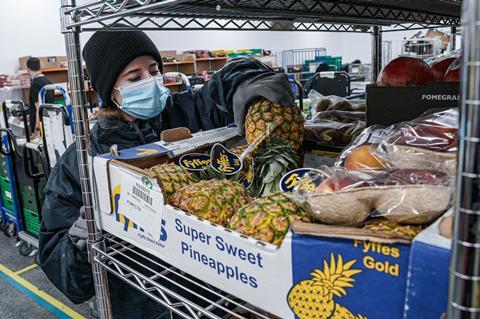 Amazon is making Amazon Fresh grocery delivery free to Prime members, with order fulfilment available within the hour in select areas.
The free delivery perk – for orders over £40 – is being rolled out to Prime members in London and the Home Counties from today, and "millions of members across the UK" before the end of the year, Amazon said.
Before today, shopping on Amazon Fresh required a monthly add-on fee or per-order charge. The service's minimum order value has also been lowered from £40 to £15.
Amazon's "fastest grocery delivery offer in the UK" – with delivery slots typically available within one to three hours of ordering – has been switched on in 40 postcodes in the south east and will expand to "multiple cities" by Christmas.
"We consider grocery delivery to be the perfect addition to Prime. It was always about making fast delivery an everyday experience rather than an occasional indulgence. We do think over time Fresh will become one of the most loved Prime benefits in the UK," said Russell Jones, Amazon Fresh UK country manager.
Jones told The Grocer that for a large proportion of customers, rapid grocery delivery was "really compelling". Although Fresh already offers same-day delivery, "in reality" that meant orders made before 11am wouldn't typically arrive before 10pm.
"People's expectations are accelerating in terms of how fast they can get things. I don't think it's a one-hour story, but real same day: I can be on the train on the way home and this evening if I need a few extra bits, I can do that. There are many scenarios where the speed really helps," Jones said.
As availability of 'Ultra Fast Fresh' – first reported by The Grocer in April – expands, orders will be fulfilled from a "combination of new and existing" distribution sites.
"One misconception is we store bananas next to books. That's absolutely not what happens. These are purpose-built, properly fitted out, food-safe units," Jones said.
According to suppliers previously briefed by Amazon, depots in Wembley, Surrey and Hatfield have been upgraded to handle fresh produce, with work at sites in Leeds, Birmingham, Sheffield, Portsmouth, Glasgow, Newcastle, Liverpool and Manchester to follow. Amazon would not confirm the order or extent of the upgrades.
Fresh deliveries will be made by freelance drivers from Amazon's Flex pool, and unlike most online grocers, won't arrive in a chilled van. "We use passive chilled chain to make sure products are delivered in good condition," Jones explained.
The Fresh range will remain similar in size and variety, but Amazon is seeking "alternative local suppliers" for when the service extends into new areas. Several current London-based artisanal producers will be taken national, while other suppliers may only serve a specific region.
"We can do both," Jones explained. "Some of the companies don't have the capabilities to scale up as fast. It's about how they want to be as a business and what choices they want to make. We're here to try and help them to be successful reaching more members. For one artisan producer its a compromise to quality if you take them all round the country, another may be absolutely delighted to do that. So it's a two-way discussion."
Remaining in the range are products from Booths, Whole Foods Market, Pepsi, Danone, Arla, Warburtons and Britvic, as well as artisan producers including Gail's Artisan Bakery, C Lidgate and Paxton & Whitfield.
"Our Prime members don't just say we want you to be Asda or Waitrose. They say we want everything from you, we want and are willing to pay for some of the best artisan producers, but equally we don't want to pay over the odds for our standard fruit and veg. So we try to strike a balance and offer as much to as many people as possible," Jones explained.
Industry analysts had predicted a bundling of Fresh and Prime in the UK, which follows the same move by Amazon in the US in October.
GlobalData retail analyst Thomas Brereton told The Grocer the move should be of most concern to the mid to premium end of the market – the likes of Sainsbury's, Waitrose and Ocado.
However, Brereton remained "slightly sceptical" that Amazon could convince customers it was the go-to brand for food as well as non-food, with GlobalData data showing only around 5% of Brits had ever bought food from Amazon.
"This is them trying to put their mark on online grocery. And with coronavirus and the amount online grocery has increased in the UK, this is a sensible time to do that," he said.
"They missed the big surge. If there was a new online pureplay coming to the market now, I'd say yes, they missed the opportunity, people have already got their favourite set-up. But because Amazon is Amazon and it already has that membership base… If they can market it well to members it will be a powerful tool to them," Brereton explained.
As well as its massive Prime membership base – which according to Mintel totals around 15 million people in the UK – a key advantage for Amazon was its willingness "to lose money to gain foothold in a market and go from there" Brereton added. He assumed the endeavour would be loss-making in the near-term.
"That's kind of Amazon's trademark," he said.