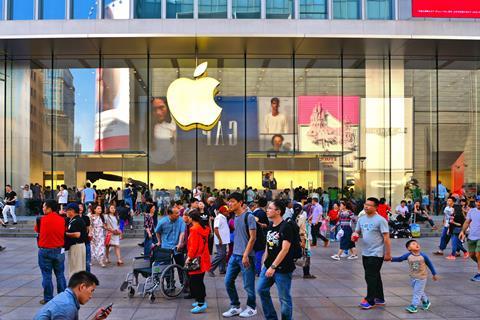 If anyone doubted the significance of China's annual Singles' Day, Alibaba's recent record-breaking sales prove the shopping holiday is not to be underestimated.
It is like Alibaba's version of Amazon's Prime Day. But much, much bigger: estimates suggest over five times bigger in fact. This year's $38.4-bn bonanza saw the Chinese giant surpass last year's record in 16.5 hours.
To put that into context, it's bigger than Black Friday and Cyber Monday combined. Estée Lauder generated $143m in pre-orders during Alibaba's three week-long, pre-sales event. Some $14m-worth of Apple iPhone 11s were sold too.
While Tesco created trading peaks every time it sent customers Clubcard statements, the growing success of Singles' Day suggests more of these trade-skewing events are coming – and that you've got to be in it to win it.
Nowadays, these events are not so much about a brand projecting out, but all about bringing the customer in on a day that's special to them. Even Nike and Brooks Brothers offered Singles' Day discounts on their US sites.
So, if you can create your own trading peaks or, better still, piggyback on a seasonal event, it can be a great way of capitalising on broadcast advertising in a measurable way to drive acquisition and frequency.
Despite the fact it's broadcast, you know for sure that the likes of Alibaba and Amazon will move rapidly to remarket to those people that engage with these online titans for the first time during such events.
They can provide the beginning of a customer acquisition journey that is designed to take them from being a 'one-hit wonder' to more a more regular, and ultimately loyal, customer.
Understanding the impact of these events as a driver of visits and trade can also help build awareness and engagement and complement other cross-channel content to differentiate on more than price and product.
Alibaba uses its AI engines to generate personalised shopping pages based on merchants' target customer data. Serving 6.7 billion pages delivered a boost of 20% in conversion rates. But that was as long ago as 2016.
The increasing popularity of Singles' Day also demonstrates how the development of direct digital marketing doesn't invalidate the effectiveness of big high-profile, event-based advertising activity.
But the use of digital provides a performance marketing element to big events that can be used to better measure effectiveness, justify repeat participation, and define future changes and improvements.
With international brands flocking to Alibaba's celebrity-studded live launch telecast and various online platforms to sell everything from iPhones to cars, Singles' Day shows it pays to build direct digital connections.