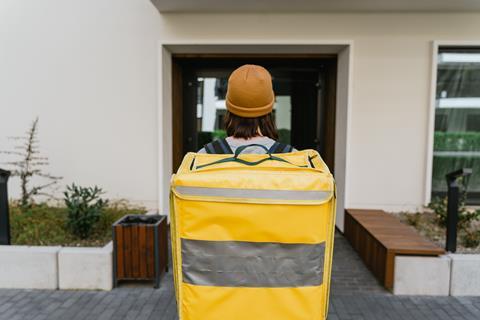 Less than half of mystery shoppers are being asked for ID after ordering restricted goods through rapid grocery delivery services, an investigation by Serve Legal has found.
Over the past 12 months, some 2,600 young mystery shoppers from the compliance audit company made test purchases using online and app-based fast delivery services. Only 45% were asked to show proof of age when their order of alcohol or cigarettes was delivered.
The rate lags significantly behind standard home delivery from supermarkets, where 72% of mystery shoppers were asked to prove their age.
Serve Legal director Ed Heaver believes the time pressure food couriers are put under, as well as the remote nature of their work, was contributing to lower pass rates.
"Supermarkets provide in-person training on managing Challenge 25 policies, whereas the remote-working nature of rapid delivery companies means that training is often completed online or via an app with lower levels of human interaction, which making it easier to ignore or not give it full attention," Heaver said.
"Another factor is the time pressure many delivery drivers are under, especially for those earning on a 'per drop' basis rather than a set hourly rate – asking for ID makes the doorstep transaction take longer," he added.
Since rapid delivery companies often used third-party couriers, there was likely to be a "lower level of responsibility and accountability" he said.
Though the companies involved in the Serve Legal investigation were not disclosed, they are understood to include both takeaway platforms that now order groceries, as well as the 'ultra-fast' 15-minute grocery delivery services.
Platforms such as Deliveroo and Uber Eats have since last year established new age-check policies. In May last year, Deliveroo told couriers they must enter the customer's date of birth into the app from a valid form of ID. The company warned riders of "regular spot-checks" with failure considered "a breach of your contract with us".
Rapid players such as Getir and Gopuff say they ask for ID when delivering age restricted products. "We are committed to upholding our legal obligations as a responsible retailer," Gopuff said.
Both rates of age verification checks for online orders lag behind that of physical retailers.
In supermarket tests, 77% of Serve Legal's mystery shoppers were asked for proof of age when buying age-restricted goods, and 81% of mystery shoppers attempting to buy restricted products in convenience stores.
Within stores there is evidence technology "may be falling short" on compliance. Where 79% of mystery shoppers making purchases at a manned checkout were challenged, only 73% were at self-service checkouts.
"Our data suggests this automation of shopping exposes the risk of selling and delivering harmful goods to young people without challenge," Heaver said.
"Urgent action is needed and no responsible retailer or delivery company should be handing harmful goods to a young person without asking to see physical proof of age," he added.