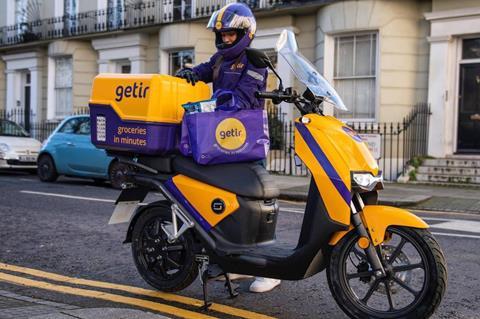 Turkish rapid delivery firm Getir has announced its arrival in the UK, offering a range of groceries to customers in London zones 1 and 2.
The company said more than 1,000 products are available via the app. The selection listed includes food cupboard, chilled and frozen items, packaged meats and dairy as well as alcohol, cleaning and pet products.
There is a minimum order size of £10 and a £1.99 delivery fee.
"We chose London for our first step in international expansion because it's absolutely amazing. From its diverse set of people, all with their unique stories, to its boroughs that all have a unique character, to how it embraces tech startups like ourselves, London rocks," the company said.
Founded in 2015, the Istanbul-based company operates in 18 cities across Turkey, including the capital Ankara. Enjoying a boom in demand last year as a result of the pandemic, it raised around $38m in its first funding round in early 2020.
The company this month reportedly raised a further $128m in another funding round. The investment values the company at around $850m, making it one of the highest valued tech startups in the MENA region.
Getir means 'bring' in Turkish, its similarity to the phrase 'get here' in English seemingly coincidental.
"Getir is now in London. We will endear this two-syllable Turkish word there, too," Nazım Salur, the company's co-founder and CEO, said in a Twitter post.
In November, Getir UK appointed Neil Franklin as its head of buying. Franklin had previously served as head of ambient at Ocado, and was involved in Waitrose's ecommerce operation in the run-up to its split from Ocado in September.
Deliveries in London will run from "early morning until late at night" and the app's real-time inventory means the service can promise "absolutely no substitutions". The service has launched with a £10 discount promotion on first time orders.