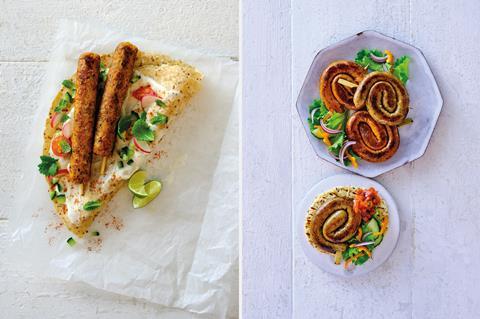 Waitrose has introduced plant-based products as part of its summer barbecue range, including jackfruit burgers and Italian and Spanish style 'sausage' whirls.
New lines also include the Korean-inspired vegetable burger (rsp: £2.20/227g), Italian and Spanish style 'sausage' whirls (rsp: £2.39/300g), jackfruit burgers (rsp: £2.90/200g), cheese alternative slices (rsp: £2.60/180g), seitan patties (rsp: £2.99/227g), and tandoori kofta kebabs (rsp: £2.99/280g).
The upmarket grocer has also implemented a lunch range inspired by seasonal produce and classic flavours.
New skus in the Scrumptious Summer selection include plant-based creamy onion and chive rolls and Lincolnshire-style rolls (both 160g), as well as a vegan pasty filled with seasoned soya mince and made in Cornwall (130g). These are to be priced at £2.75 per pack, but are currently £2.20 in an introductory offer.
This follows the rollout of Greggs' vegan sausage roll across all Waitrose stores, which a spokesman said was one of the most successful launches in its history. Tesco also introduced its own vegan sausage roll to its in-store bakeries this month.
Waitrose's new products have been added following customers' searches for the word 'vegan' on Waitrose.com doubling in the past year.
The Scrumptious Summer range is available in Waitrose's 349 branches and online, and consists of 150 new lines and close to 200 in total, making it the retailer's largest ever summer selection of products.
"Summer is the perfect time to get outside and enjoy great food with family and friends," said Waitrose executive chef Jonathan Moore. "We wanted to create a range that is full of flavour and helps our customers celebrate the season, whether that be with picnics in the park, barbecues on the beach or dinner after a dash indoors to avoid the rain.
"We know certain foods and tastes can instantly transport us down memory lane, helping us to reminisce over our favourite memories. We took inspiration from classic, nostalgic flavours, but with a modern innovative twist."
Work in own-label? Find out more about The Grocer's Own-label Accreditation scheme here.