It will certainly be a Mother's Day with fewer cuddles and catch-ups, but the supermarkets have come up with new ways to make sure it's not short of breakfasts in bed, beautiful blooms and sweet treats to make sure mums across the nation, near and far, don't miss out. Here's what they have planned
Asda
Food & drink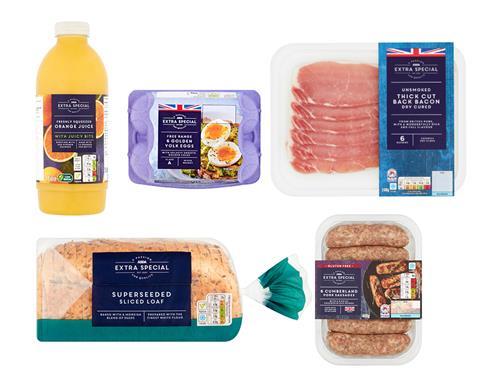 Mother's Day morning may be slightly different this year, but Asda has created two bundles to make sure shoppers can still treat their mum to breakfast in bed. The Extra Special Mother's Day Cooked Breakfast Bundle (pictured, rsp: £8.30) includes Cumberland sausages, a superseeded loaf, golden yolk eggs, freshly squeezed orange juice and thick cut back bacon. The Extra Special Mother's Day Continental Breakfast Bundle (rsp: £7.45) includes raspberry West Country yoghurt, freshly squeezed orange juice, all butter croissants, farmhouse salted butter and sable grapes.
Flowers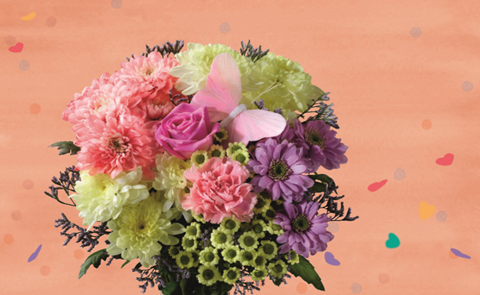 Carnations, chrysanthemums and pink roses feature in this Mum's Delight Bouquet (rsp: £5), topped with a pink butterfly decoration. There's also a rainbow selection of Dyed Chrysanthemums (rsp: £3) and the Pink Isabella (rsp: £5) with pink roses, chrysanthemums and statice.
Homeware and gifts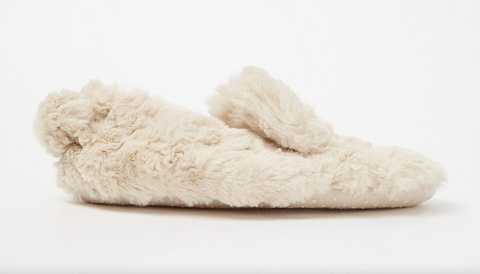 Over at George, Asda is betting that mum's cosy clothes and slippers will be due a refresh after unprecedented use over the past year. There's a huge range of new slippers including the Cream Faux Fur Bunny Slipper Socks (pictured, rsp: £5), and Floral Print Ballet Slippers (rsp: £6) and in nightwear there's new blue-hued Whale Print Pyjamas (rsp: £14) and a navy Star Print Mock Wrap Pyjama Playsuit (rsp: £12.50).
Waitrose
Food & drink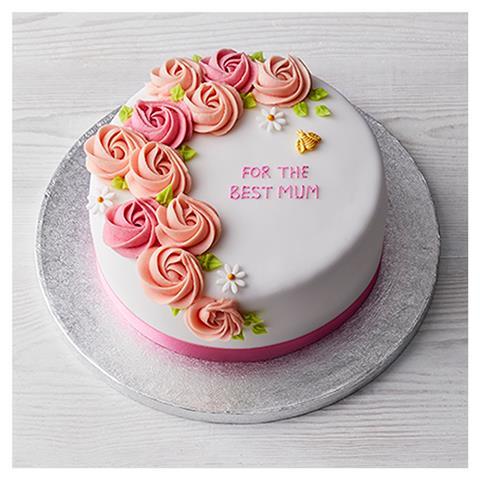 What's Mother's Day about if not making your mum feel like a queen for a day? Waitrose thinks afternoon tea is the way to go and has considerably expanded its cake range for spring. In its food to order range there's new triple layer lemon, carrot, victoria sponge and chocolate salted caramel cakes (rsp: £20) and the iced Rose Cake (pictured, rsp: £30) which can be personalised.
Flowers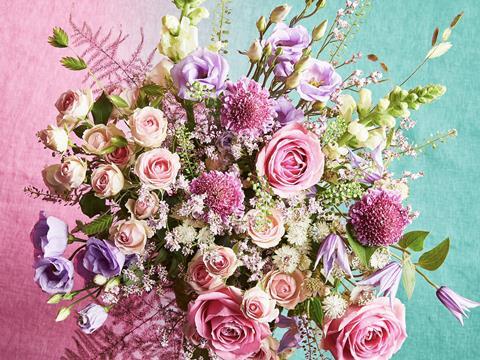 "Wild, relaxed and on-trend", the Floral Gathering Bouquet (rsp: £40) is a mix of pink roses, lilac clematis, lisianthus, pink scabiosa and tall white antirrhinum amongst white astrantia, asparagus fern, green bell and pink limonium.
Homeware and gifts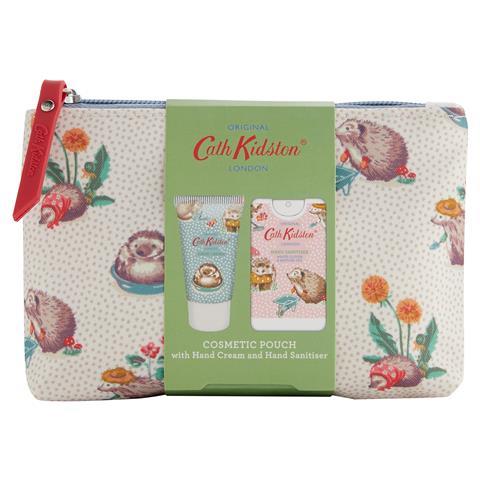 Green-fingered mums will be well catered to at Waitrose: there are green floral Cotton Gloves (rsp: £2.99), a Bee House and Insect Hotel (rsp: £12.99 and £18.99) and selection of grey-handled Garden Tools (rsp: £8-£10). To soothe post-gardening hands there's Cath Kidston The Gardener's Club Pouch (pictured, rsp: £16) with hand cream and sanitiser in a zipped pouch.
M&S
Food & drink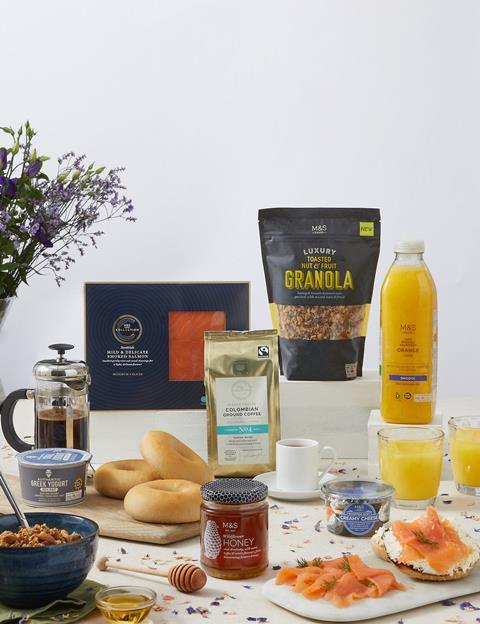 Breakfast in bed is an undisputed Mother's Day classic and as a remedy for those who can't be with their mums this year, M&S has created two breakfast bundles that can be delivered straight to mum's door. Luxury Breakfast in Bed (rsp: £30) includes a bagel selection, smoked salmon, cream cheese, yoghurt, granola, honey, coffee and orange juice and Continental Breakfast in Bed (rsp: £20) comes with ground coffee, teabags, croissants, teacakes, pain au chocolat, jam and marmalade.
Flowers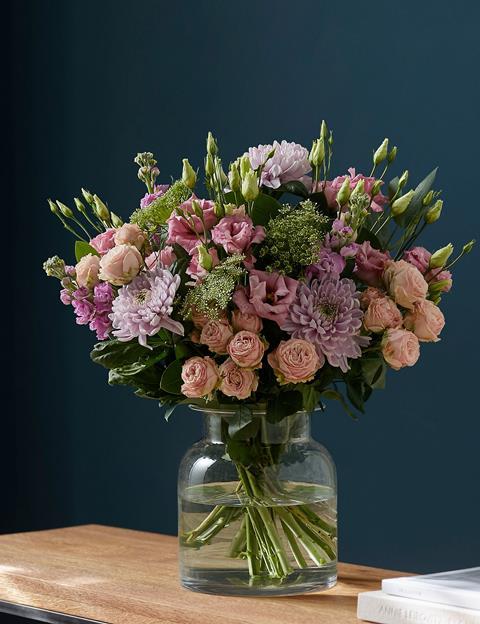 M&S's hero bouquet this year is the Collection Mum's Pink Perfection Bouquet (pictured, rsp: £45) which combines pink spray roses, stocks, lisianthus, chrysanthemums and ammi majus. There's also Mum's Purple Surprise (rsp: £40) with pink carnations, purple roses and burgundy antirrhinums and the Mother's Day Colour Burst Bouquet (rsp: £35) with yellow sunflowers and orange roses.
Homeware and gifts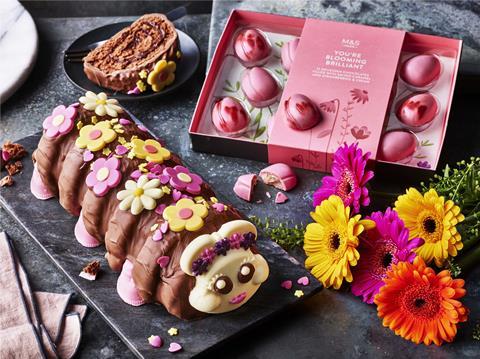 Foodie gifts are high on the agenda, There's the limited-edition Mumosa (rsp: £5) cocktail made with wine, orange and strawberry juice. The new You're Blooming Brilliant Chocolates (rsp: £5/132g) are tulip-shaped chocolates in two flavour combinations: Strawberries & Cream and Salted Caramel. They're pictured above alongside the in-store exclusive Flower Power Connie the Caterpillar (rsp: £10), who has been dolled up with pink high tops and colourful flowers and filled with an all butter chocolate sponge roll and strawberry flavoured buttercream, especially for Mother's Day.
The Mumosa and Blooming Chocolates can be delivered in a bundle along with a large tulip bouquet for £40.
Tesco
Food & drink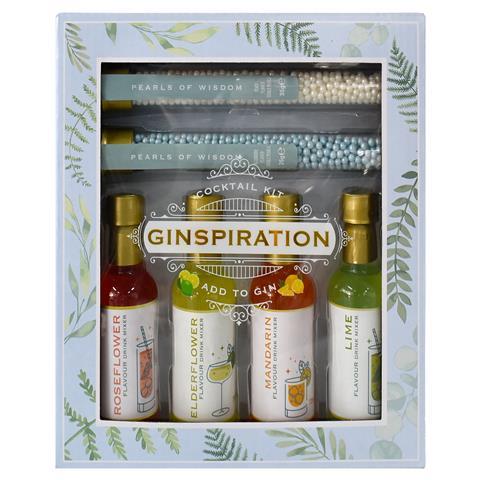 Tesco is going in hard on its Clubcard prices deals for Mother's Day. Shoppers can gift a litre of Bailey's (rsp: £20) for just £12, a litre of Bombay Sapphire (rsp: £27.50) for £22 and a Lindt Lindor Milk Chocolate Carton (rsp: £5) for £3.50 among others. It's also stocking some foodie gifts, including a Ginspiration Cocktail Therapy Kit (pictured, £7) with four bottles of botanical mixers and two flavours of edible pearls to spruce up mum's G&T.
Flowers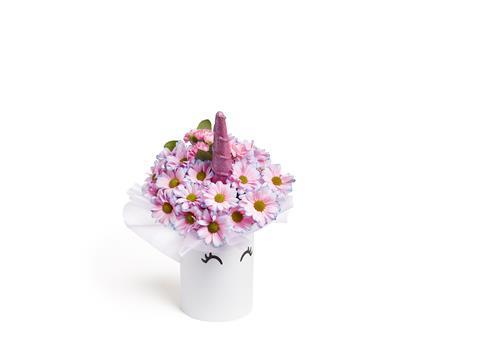 Even the pandemic can't keep unicorn fever down. The perfect gift for kids to give to mum, says Tesco, this Unicorn Bouquet (rsp: £10) gift box is filled with chrysanthemums and carnations and decorated with a sparkly horn and is joined by a green-hued dinosaur bouquet. For something a bit more grown-up there's the Tesco Mother's Day Calla Lily in Ceramic (rsp: £7), a cala plant in a pink or white pot and the Tesco Finest Ocean Mist Bouquet (rsp:£25) made up of avalanche roses, purple lisianthus, spray roses, agapanthus and eucalyptus.
Homeware and gifts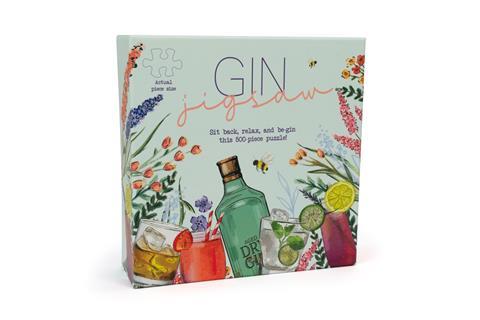 Safe in the knowledge we'll all still be cooped up on Mother's Day, Tesco is stocking a range of at boredom-breaking gifts. There's the 500-piece Gin Jigsaw (pictured, rsp: £5), a nature-inspired 'Bee-Happy' Embroidery Kit (rsp: £4) and, sticking with the gin theme, a Ginspiration Make Your Own Gin Cookies kit (rsp: £5).
Morrisons
Food & drink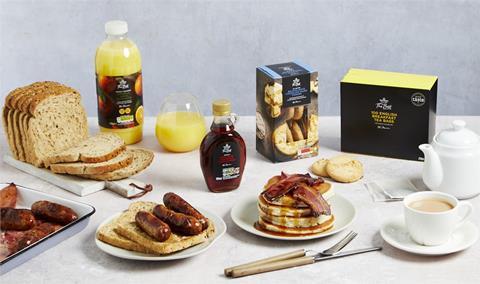 Another retailer banking on breakfast in bed, Morrisons has brought together a selection of treats under its Food Boxes service. The Best Mother's Day Breakfast in Bed (pictured, rsp: £20) includes buttermilk pancakes, sausages, bacon, maple syrup, freshly squeezed orange juice, cookies and much more. For something later in the day, there's the Afternoon Tea Box (rsp: £20) with scones, Cornish clotted cream, jam, bread, egg mayo, ham, cheese, bakewell tarts, lemonade, crisps and more.
Flowers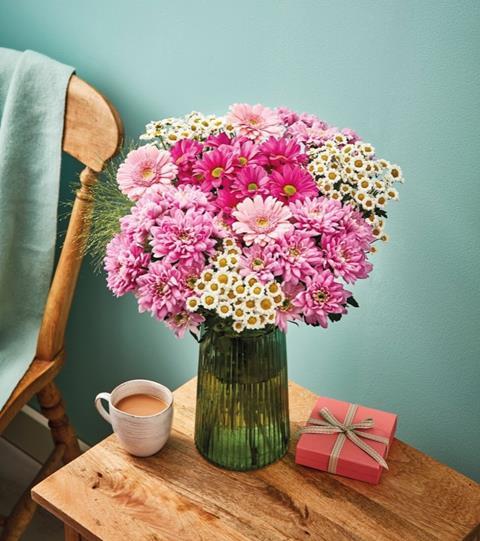 Geraniums and chrysanthemums make up the Number One Mum Bouquet (pictured, rsp: £10). It's available in peachy pink or yellow and apricot colour schemes.
Homeware and gifts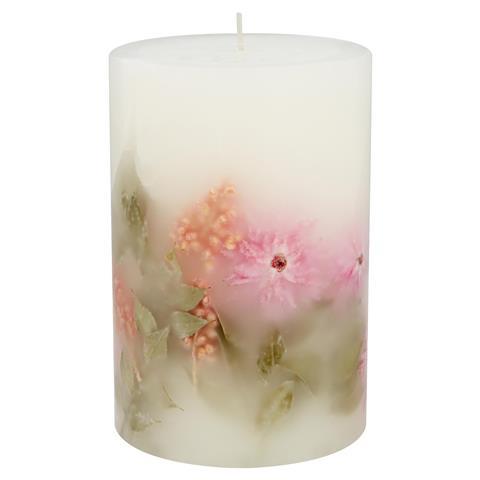 For mums that no one can hold a candle to, Morrisons also has a wide range of scented candles and diffusers available. There's the Rosewood & Spice Pillar Candle (rsp: £7), double-wicked Tin Candle in White Lily & Jasmine, Magnolia & Velvet Peony and Wild Flower Meadow scents (rsp: £5) and the Candlelight Mum Votive set (rsp: £5).