Asda is hoping a touch of nostalgia will make its festive range Extra Special this Christmas, with plenty of twists on classic dishes. It's also hoping to deliver on the wow factor with its centrepiece mains and desserts. Here's our pick of the new products on offer.
Asda has not yet provided prices for its Christmas products
Canapès
Extra Special Ibérico Bellota Crostini Kit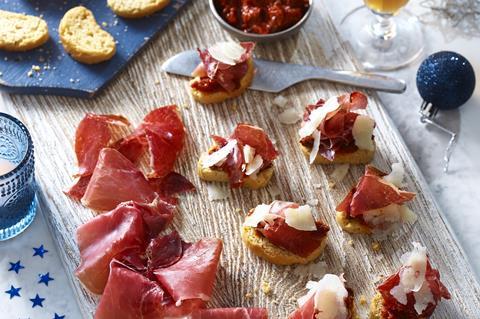 This Mediterranean-inspired kit provides all the elements consumers need to create a flavourful canapé with minimal hassle. It includes 30-month cured, air-dried Iberico Bellota ham, tomato & olive tapenade and shavings of manchego cheese, as well as olive oil crostini upon which to load the toppings.
Extra Special Mini Coquilles St Jacques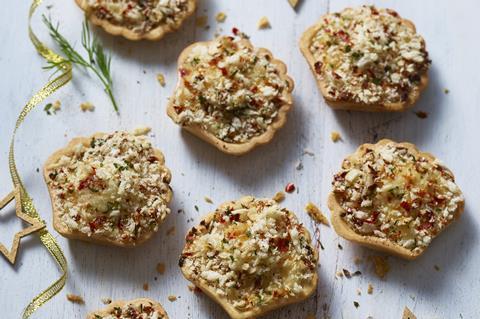 Asda has transformed the classic seafood starter, comprising scallops in a creamy white wine sauce, into a dainty canapè. Instead of serving the filling in a real scallop shell as is traditional, Asda's bitesize version comes in a shortcrust pastry shell, topped with panko and parsley breadcrumbs.
Extra Special Star Shaped Vol Au Vents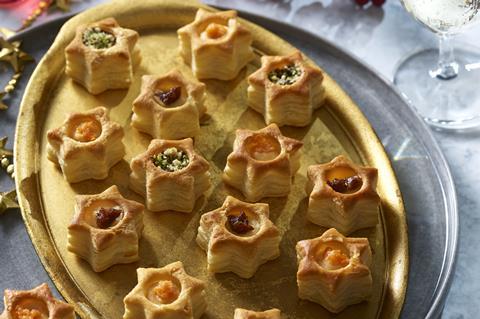 There's no need to mess with a classic canapé like vol au vents. So besides making the puff pastry cases star shaped, Asda has kept it simple with these nostalgic nibbles. They come in Scottish smoked salmon and cream cheese, portobello & porcini mushroom and goats cheese & caramelised onion flavours.
Extra Special Ultimate Blackthorn Smoked Salmon, Truffle & Dill Cream Cheese Blini Kit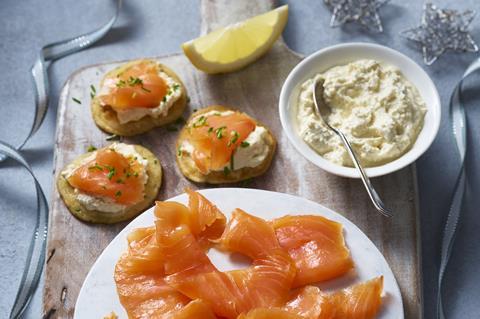 Billed as the 'ultimate' smoked salmon, this fish is cured in Blackthorn salt, which is sustainably made by filtering Scottish seawater through the country's only graduation thorn tower. It is then smoked in a traditional brick kiln using heather, alder and sweetgale. Asda recommends serving this alongside its Truffle & Dill Cream Cheese, which is produced in Scotland using Italian black truffle, British milk and a hint of honey. The cream cheese is also available as part of a build-your-own blini kit, alongside a peat and cherrywood-smoked Scottish salmon.
Extra Special Ultimate Prawn Cocktail with Fire Roasted Marie Rose Sauce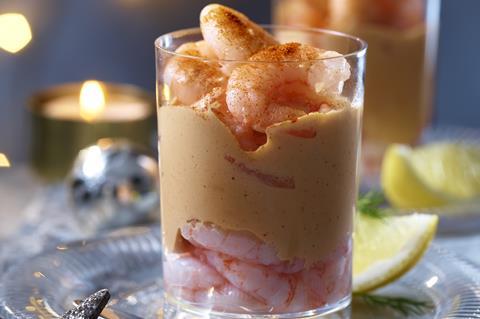 Another twist on a classic appetiser is Asda's Ultimate Prawn Cocktail, which comes layered in a ready to serve pot. The base is a combination of cold and warmwater king prawns, topped with a layer of marie rose sauce made with fire-roasted tomatoes. The dish is then finished with more king prawns and sprinkle of smoked paprika.
Main course
Extra Special Tomahawk Wellington
Beef Wellington has long been used as a decadent alternative to turkey at Christmas. But Asda is taking the dish a step further, by giving a 21-day matured, French trimmed Tomahawk steak the Wellington treatment. The steak is encased in a shiitake mushroom and madeira duxelle and topped with a three cheese & truffle melt, before being wrapped and decorated with all-butter puff pastry. Served on the bone, the steak is designed to be a showstopping centrepiece on any festive table.
Picanha Beef Joint with Garlic & Herb Butter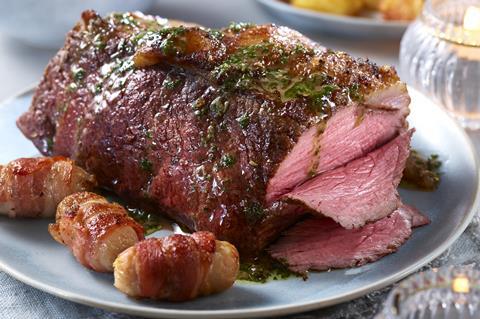 Known for its popularity in South American countries like Brazil, picanha is a cut of beef taken from the rump cap. As part of its festive range, Asda is selling "succulent", 21-day matured joints of the meat alongside a "fragrant" garlic & herb butter. Pictured above alongside Asda's new Maple Cured Pigs In Blankets, which are finished with a "sweet, sugary sprinkle to add that moreish flavour".
Extra Special Ultimate Jewelled Carvery Lamb Shoulder with Festive Fruit Stuffing & Meaty Lamb Jus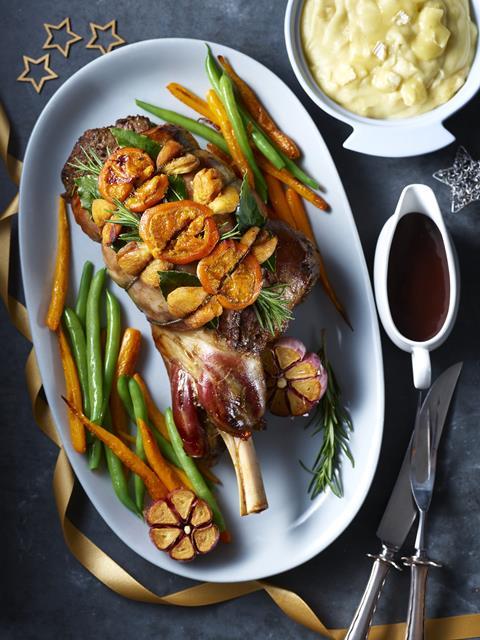 Much like Asda's Tomahawk Wellington (see above), this "jewelled" shoulder of lamb is designed to impress with its presentation as well as flavour. The easy carve joint is filled with a fruity, lamb-based stuffing and topped with colourful clementines, apricots and rosemary, while a rich lamb and bone marrow jus is sold alongside. Consumers may choose to serve the meat with an equally indulgent side dish, such as Extra Special Brie Topped Truffle mash (also pictured).
Extra Special Free Range and Corn Fed Norfolk Bronze Turkey Crown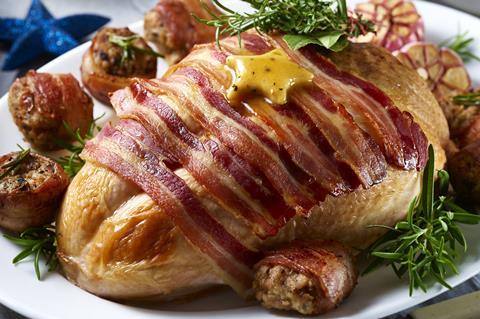 Described as "the perfect centrepiece turkey for Christmas Day", this free-range, corn-fed Norfolk Bronze crown is packed with pork, sage & caramelised onion stuffing and topped with rashers of thick cut, dry cured Beechwood smoked bacon. Asda has added finished touches including a roast chicken stock butter star and a bouquet of herbs, to ensure maximum flavour. The bird is pictured alongside Extra Special Pork, Truffle & Porcini Stuffing Parcels, which are wrapped in oak smoked bacon.
Stuffed Turkey Parcels with Pork, Sage & Onion Stuffing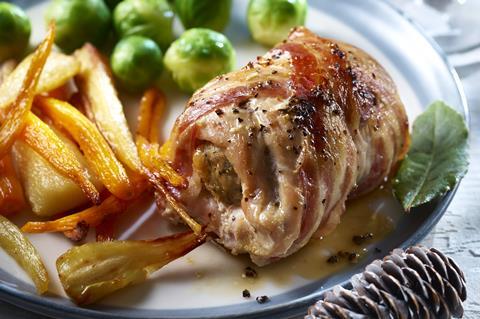 Featuring similar elements to Asda's Norfolk Bronze Turkey Crown (above) but as a single-serve format, these Stuffed Turkey Parcels give shoppers an option for smaller-scale Christmas meals. Packed with traditional festive flavours, the turkey breast steaks are filled with pork, sage & onion stuffing, wrapped in Beechwood smoked bacon and topped with a star-shaped pat of butter.
Pork & Apple Hog Roast Stuffing Wreath with Crispy Crackling Crumb & Cider Apple Glaze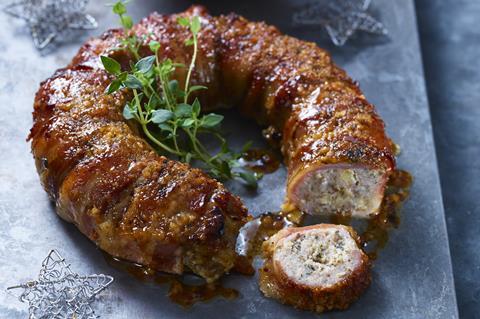 With juicy pork, tart apple sauce, fried onions and crispy crackling – perhaps washed down with a glass of cider – a hog roast is perfect for the cold winter months. Now Asda is taking those flavours and packing them into a festive wreath for Christmas. It is made from a base of pork stuffing studded with apple, onion and sage. It is then wrapped in bacon and topped with a crispy crackling crumb, and finished with a coating of "sweet & sticky" cider apple glaze.
Plant Based Vegan Turkey Crown with Umami Basting Stock
Asda has ensured its "succulent" soya-based vegan turkey crown is full of flavour by coating it in a turkey flavoured crumb and serving it with an "intensely savoury" umami basting stock.
Desserts
Extra Special Giant Indulgent Mince Pie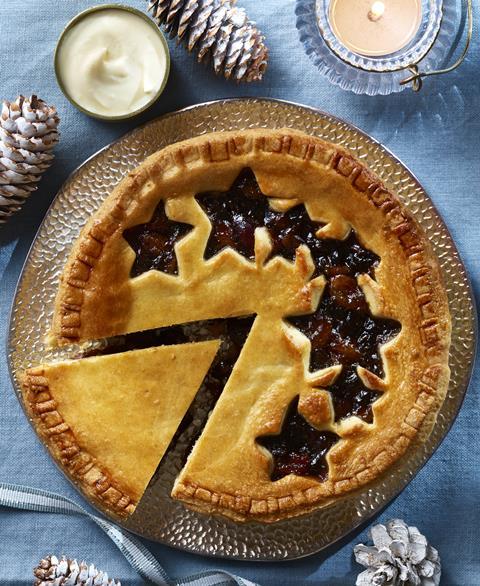 How do you make a mince pie even more Christmassy? According to Asda, you make it big enough to share. The supermarket's giant version of the festive staple features an all butter shortcrust pastry case, filled with three month-matured mincemeat infused with brandy, port, orange zest and spices. Asda believes the dessert "works perfectly" with its Extra Special Blonde Chocolate & Rum Extra Thick Cream (also pictured).
Espresso and Passionfruit Martini Cocktail Desserts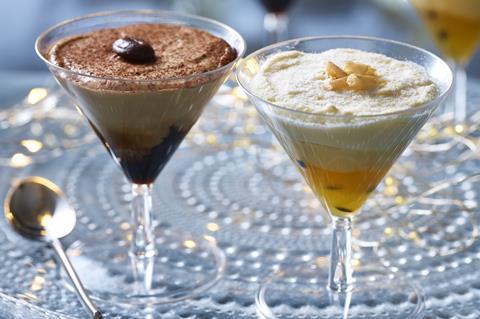 They may look good enough to drink, but these cocktails are in fact more suited to spooning than sipping. Served in trademark glasses, the desserts are inspired by two of Britain's most popular martini cocktails. First up, the espresso dessert features layers of boudoir sponge soaked with coffee and amaretto liqueur, almond cream and coffee flavour cheesecake, finished with a dusting of cocoa and a chocolate coffee bean. This is joined by a passionfruit flavour, which has a base of passionfruit compote laced with vanilla-flavoured vodka, topped with lemon curd and chantilly cream cheese. For a final festive flourish, it is topped with 'sweet snow' and white chocolate curls.
Millionaire's Edible Chocolate Bowl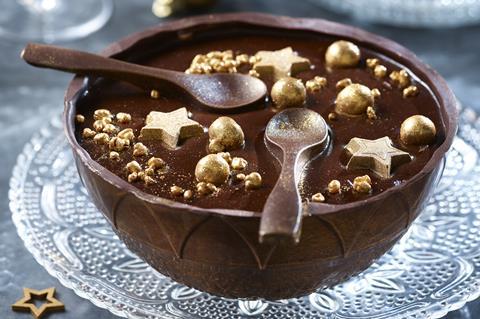 Consumers are sure to be bowled over by the novelty of Asda's new sharing dessert: a millionaire's pud with edible bowl and spoons. Inside the Belgian chocolate bowl are layers of digestive biscuit, toffee flavoured mousse and sticky toffee sauce, while it is topped with chocolate ganache, golden decorations and two chocolate spoons.
Double Smash 'Jingle' Reindeer Cake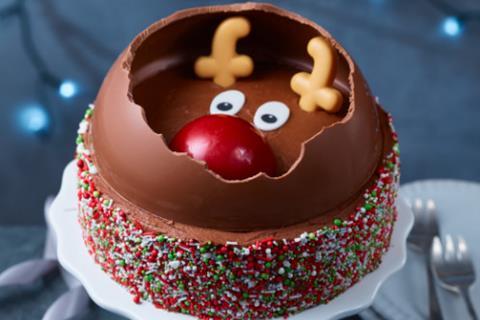 Smash cakes aren't a brand new phenomenon on supermarket shelves. But Asda is taking the genre a step further this Christmas with the launch of a 'double smash' cake. Consumers use their spoon to break through a milk chocolate dome, revealing the face of Jingle the reindeer beneath. They can then have another crack at it, as Jingle's red nose is a smaller smashable dome filled with "a secret stash of reindeer treats". It's all resting on a chocolate sponge covered in chocolate icing and sprinkles.
Extra Special Vegan Chocolate Bauble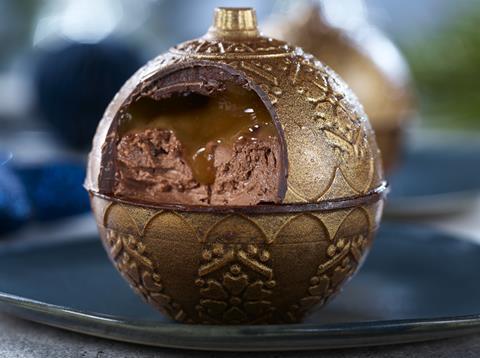 Baubles aren't just for the Christmas tree. This edible version is made from a Belgian dark chocolate sphere, filled with vegan chocolate mousse, cookie crumb and caramel sauce.
Cheese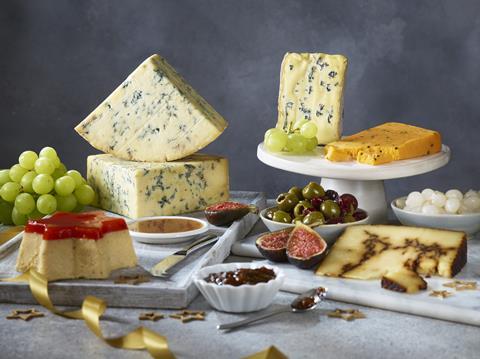 Belton Farm Double Gloucester Cheese Pâté with Sweet Chilli Jam
This star-shaped cheese terrine (pictured above, left) is made with creamy Belton Double Gloucester, which is handmade in Shropshire. It is topped with a layer of mild sweet chilli jam to complement the "creamy and buttery" cheese.
Extra Special Tuxford & Tebbutt Potted Blue Stilton Cheese with Spiced Apple & Port Compote
This "rich and creamy" blue stilton (pictured above, second left) is presented in a pot, but Asda recommends removing it before popping it on the cheeseboard. The cheese is sold alongside a Spiced Apple & Port Chutney, which has subtle cinnamon notes to complement the saltiness of the stilton.
Extra Special Montagnolo Affiné
Described as mild, delicate and aromatic, this soft blue cheese (pictured above, centre) hails from Germany and has a distinctive edible grey rind.
Aged Red Leicester with Geeta's Mango Chutney
Created by cheesemaker Joseph Heler, this mature red leicester (pictured above, second right) features Indian spicing and a touch of sweetness from the inclusion of mango chutney.
Extra Special Queso de Oveja con Ajo Negro
Black garlic – or ajo negro in Spanish – creates the striking veined appearance of this "sweet and fruity" sheeps cheese (pictured above, right), which is similar in style to manchego.
Supermarket Christmas ranges 2022
1

2

3

Currently reading

Tomahawk Wellingtons and edible chocolate bowls: Asda Christmas range 2022

4