Sipping peppermint tea at her Marble Arch deli, Ella Mills shakes her head. "I hate it, I absolutely hate it," she says, bristling at the headlines crowning her the 'Queen of Clean' for her love of Instagrammable overnight oats and dairy-free cashew cream. "There's no part of us that says 'eat for abs, go on a diet, calorie count' - we're the polar opposite. I think the only time I've said the word clean is to say I hate it."

The clean eating movement has been hit with a backlash for demonising processed foods and encouraging eating disorders, so you can forgive the entrepreneur for keeping her Deliciously Ella brand a safe distance away. She "totally agrees" with all the concern. And "nobody is trying to preach at anybody" on her own blog (she has 100,000 subscribers and nearly a million followers on Instagram). "It can be a little frustrating. It's a misunderstanding of what we're meant to be."

Only four years ago, blogging about her plant-based diet was just a hobby. Diagnosed with postural tachycardia syndrome in 2011, she struggled with a fluctuating heart rate, chronic fatigue and headaches, which a series of steroids and beta-blockers failed to cure.

"My autonomic nervous system broke down, I spent five months in hospital and a year in bed," she remembers. Stripping out meat, dairy, gluten and refined sugar helped where the medicine failed. "Lifestyle has been the only thing that manages my symptoms effectively and it's still a day-to-day management."

She insists she never pushed her followers to be as strict, pointing to new husband (and business partner) Matt Mills as the "perfect example." He tucks into "tons of brown rice and garlicky beans" at home but is the "first to order a bowl of ice cream" when out.

Tens of thousands bought into the philosophy and in 2015 Mills (then Woodward) released her first cookbook. Demand was so high that the publication date had to be pushed back to cope with the volume of orders. Invites to host talks and cooking classes poured in. The transition from blogging to book tours and press junkets was "a massive adjustment", she admits.

"The physical side of being ill was one thing, but mentally I had gone through a really bad stage of depression, I had very low self-esteem, and very low self-worth," she says. "I'd spent most of that time on my own and felt very isolated. It went suddenly from that to doing 100 things for 100 people."
Snapshot
Name: Ella Mills (née Woodward)
Age: 24
Business idol: Jamie Oliver - the ability to transition from a one-man book/TV personality to running a massive company and then campaign for change too is amazing
Best piece of advice: To be an entrepreneur you need to be an optimist
Best decision of your career so far: Deciding to work with Matt
Biggest mistake: Starting out with self-doubt. I've learned the more confidence I have the stronger the company can become and the stronger I can become as a leader in it
Hobbies: Taking cocker spaniel Austen for long walks, and yoga
Favourite restaurant: The Palomar restaurant, Soho
Favourite chef: I love Ottolenghi, what he did for veg was amazing
Self-doubt plagued those early steps into business as a result. "You're a young girl and people don't take you that seriously, and that stops you from taking yourself that seriously. You say yes to things because you feel you can't say no, don't sign contracts properly and end up committing to things you don't want to because you didn't believe you could be a businesswoman, an entrepreneur."

But sitting across from Mills as she talks supermarket buyers, branding and a dizzying schedule ("this is a seven-day a week business") while her staff whiz up matcha lattes and green smoothies upstairs, there's little sign of self-doubt. And teaming up with Matt to roll out the Deliciously Ella brand seems to be a big contributor.

"I'd always felt I needed a partner and I was never sure about taking on someone that wasn't someone I knew very, very well," she smiles. "It's always a bit scary to go into business with a friend. So this was the perfect scenario."

Matt now takes on the role of "traditional CEO" dealing with the "nitty gritty" while Ella is creative director, running the blog, social media, dreaming up recipes and liaising with their head chef at The Mae Deli, which the pair opened nearly 12 months ago.

It was an experience Matt describes laughingly as "complete madness" as both took on day-to-day management for the first six weeks. They cleaned loos, brewed coffee and served customers. But "because we did everything we got a really granular knowledge of what's involved in the day-to-day of making this work," adds Ella.

Tucked down a quiet lane, The Mae Deli follows all the principles of the Deliciously Ella blog, serving up a rotating menu of dishes like cauliflower and apricot dhal, lemon and chilli butterbean houmous and quinoa with edamame, all served with "sides" of protein.

Sales have "massively exceeded expectations" though compostable coffee cups and premium ingredients might leave margins tighter than at some competitors, the couple admit.

A new branch in North Mayfair that's "double the size" will open this month. "It's going to be a slightly different look and feel," says Matt. "We have no plans to do a rollout, we just want four or five really beautiful sites." And although they are already ploughing through emails and Twitter till 11.30pm ("we were laughing at the fact we can only do this because we're both in it") they've now taken the deli's bestseller and launched it into the supermarket aisles.

Following listings in Waitrose and Whole Foods Market in August, the Deliciously Ella Energy Balls (£1.79) are now in Ocado, Planet Organic, Selfridges and will soon appear in Starbucks. With each of three SKUs made of only four ingredients "you'd find in your cupboard", the line is an attempt to brighten up the "sad" free-from aisle.

"Our whole thing is about celebrating natural, it's not about labels and I felt that the whole aisle was stamped with labels," Ella says. "You turn the ingredients around and they're disgusting, they're full of so much processed rubbish and I felt like that was a massive con to the consumer. As people are becoming more conscious of the way they're eating I felt there was a massive space there, and an opportunity to be natural and celebrate that concept ." The pair even released the full recipe on the blog, a move that would seem counterintuitive to many brands, but "it's about full transparency," adds Matt.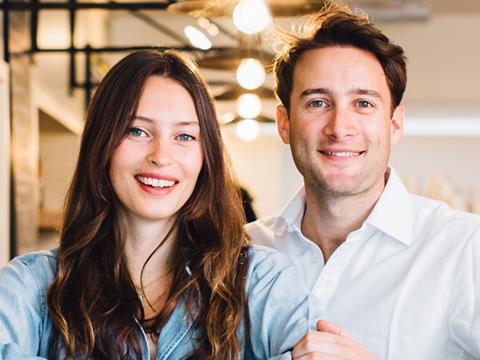 After a "paranoid" few days following launch "checking social media every five minutes" for critics, the reaction has been "amazing", says Ella, with blokes tucking into Cashew & Ginger, or Cacao & Almond balls alongside the hordes of female followers. The pair don't rule out future ventures into other categories with more products under the Mae Deli brand.

And you'd imagine, whatever their next move the pair will benefit from some sage advice around the dinner table given that Ella's mother, Camilla, is a Sainsbury's heiress. There's a pause. "Both of our families have lots of ideas, haven't they?" she says, turning to Matt (son of politician Tessa Jowell). He nods. "We're lucky to have such supportive families."

"But we're fiercely independent," Ella finishes. "We've done the whole thing ourselves. We used all the money I made through the first book to open this place and then that generated the next thing. We've got a loan against our house at the moment, which is quite scary, but we're quite determined, we really like doing this as our thing, just the two of us. Advice is great but we've been keen to work on our own".

And, raised by grocery royalty or not, she's clear her legion of fans will hold her responsible on each move, with "instant feedback" delivered via the blog where it all started and which remains "the core".

It's a "big positive" that stops the brand being able to cut corners - but it also adds costs. Insisting on all-natural food and eco-packaging "costs us more, of course it does," she says. "But if we didn't then I know everyone would say, 'it's a massive shame about the packaging, isn't it?' So we can't. But to be held accountable in such a personal way is a really positive thing. And it makes us a better company."