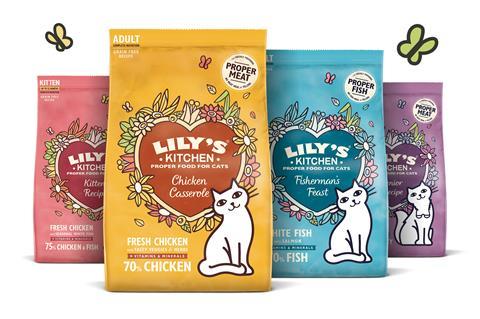 'Natural' petfood company Lily's Kitchen has reformulated and revamped its dry dog and catfood ranges.
The brand has rolled out "highly impactful" new packs featuring "a more contemporary design with more vibrant pack colours and colour blocking creating greater standout on shelf", according to the brand.
Their names, meanwhile, have been changed to Shepherd's Pie, Wild Woodland Walk and Fisherman's Feast, which the brand said were "designed to celebrate mealtimes so the nation's cats and dogs can enjoy the same delicious-sounding dishes as their pet parents".
Recipes have been changed to include more fresh meat and fish, it said, and a new SKU – Salmon Supper with Sweet Potato, Peas & Dill – has been added to its dogs' lineup.
The brand had "always regularly reviewed our recipes to ensure they are the very best they can possibly be, identifying and introducing new, high-quality ingredients, ensuring greater palatability and above all, focusing on making natural, nutritious and complete recipes that dogs and cats love and enjoy," said its CEO David Milner.