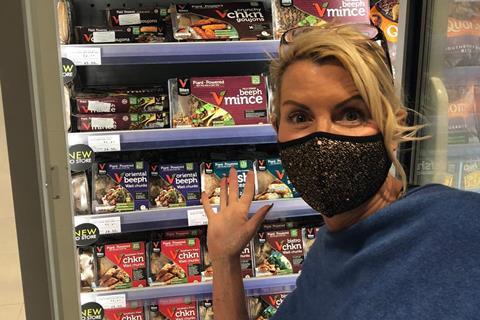 Heather Mills has expanded her V Bites brand into the Middle East for the first time, with a major listing in UAE-based retailer Spinneys and in Waitrose stores in Dubai.
The plant-based entrepreneur said the retailers had listed nine frozen SKUs each – including the V Bites Mega Burger alongside mince, chicken and fish alternatives – with products going on sale at the start of this month.
The packaging also boasted updated branding, Mills said, with the launch into Dubai part of a plan to grow V Bites internationally following a pandemic-linked downturn in demand from the supplier's foodservice customers.
"This more than fills the [manufacturing] gaps we had in the business last year from foodservice," she said.
"We've also seen an increase in demand for our vegan cheese from a major takeaway operator and for our Applewood vegan cheese [manufactured on behalf of brand owner Norseland], which means we've had to scale up production into our Peterlee factory," Mills added.
Work at the Peterlee plant – which manufactures a range of plant-based products including burgers – was placed "on pause" last summer due to the collapse in demand from pubs and restaurants after the pandemic's first lockdown.
Mills said the V Bites brand was also expected to go on sale in more retailers across the wider UAE from February, while she was also in discussions with partners in the Middle east about building an algae plant in the region – part of a wider push to scale up manufacture of plant-based ingredients.
"We're also looking at investing in a hydroponic plant in one of our factories," she added.
"Food security is such an issue at the moment. While plant-based has gone nuts, the manufacturers of plant protein isolates are going to really need to scale up production of [ingredients] rapidly if they're going to keep up with demand. I want to create more self sufficiency [in the category]."