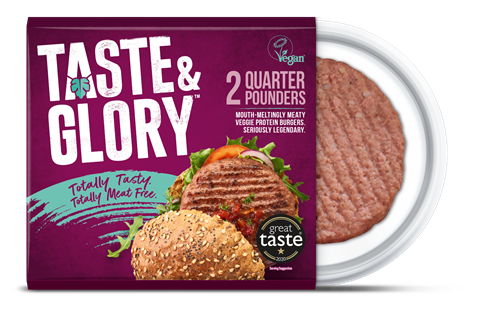 Kerry has changed the name of its flagship meat-free brand from Naked Glory to Taste & Glory in a bid to better reflect its taste credentials.
The rebrand, which comes almost two years after the range's launch in September 2019, was said by the fmcg giant to have been prompted by a growing consumer expectation of what qualities plant-based products should have.
It pointed to Kantar usage data which showed taste was the number one reason for purchasing food across all meal occasions [52 w/e 27 December 2020], and also argued the move marked a necessary new phase for the vegan brand given the competition in the meat-free sector.
The supplier said it had recorded 383 meat-free NPD launches in the market since 2019 and suggested it needed to evolve, having secured a "strong consumer base" with £9.5m in sales [IRI 52 w/e 18 April 2021].
"The name truly reflects what we stand for as a brand," explained marketing manager at Taste & Glory Alison Lees.
"In an increasingly busy meat-free category, superior taste is what is going to continue to drive growth, and with so many products on offer we know it can be hard for retailers to know which will be a hit with shoppers. Too often meat-free products miss the mark but we're so confident our products deliver on taste and texture that we're putting taste at the front and centre of our brand."
While the Naked name is set to be consigned to history, Taste & Glory packs will still carry cues to its original name – for example, with the 'a' in taste has been covered by a fig leaf.
Packs carrying the Taste & Glory name are set to hit retailers from 20 June, with on-pack messaging set to tease the move in the interim.
The relaunch is set to be supported by a £1m ATL campaign, which Kerry described as the biggest for the brand to date. This drive would see it appear on TV screens for the first time and would also take in VoD, digital and social channels.
Kerry first launched the brand in 2019 to target flexitarians in a bid to disrupt what it described at the time as a "severely under-delivering" market.
Its original line-up of four products has since been joined over the past year by a ready-to-eat Deli Readybites range and No-Beef Strips and Chick'n Burger products for the latest edition of Veganuary.