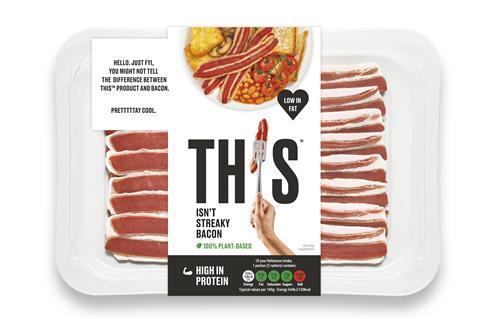 Plant-based brand This is expanding its lineup with the launch of a new streaky bacon alternative, in time for Veganuary.
Described as a "game-changer", This Isn't Streaky Bacon joins the brand's existing This Isn't Bacon line, and offered "even more hyper-realism, including appearance, for meat-eaters, flexis, veggies and vegans", the brand said.
It is being launched with significant distribution, going into almost 3,000 stores across Tesco, Sainsbury's and Waitrose from the beginning of January (rsp: £3.25/105g), which was reflective of "the high level of buy-in" for the product, the brand claimed.
The bacon alternative combines This's plant-based fat – dubbed Fat 2.0 and made from olive oil – with its plant-based alt meat, which uses pea and soya protein.
Fat 2.0 had the ability "to hold its shape and remain succulent when faced with high heat, and even crisp and brown – just like animal fat", This said. It also contained 89% less saturated fats versus animal fat, while the product was also high in protein, low in fat (88% less than the average meat equivalent), a good source of fibre and fortified with vitamin B12 and iron, according to the brand.
The result was a "smoky, meaty plant-based bacon that tastes succulent and juicy, whilst still being low in fat", and something that was "extremely difficult for consumers to distinguish" against pork bacon.
"It's taken two years of cutting-edge research and development to launch this, not to mention the thousands of taste tests and inordinate number of grey hairs acquired," said the brand's co-founder Andy Shovel.
"We couldn't be happier with where we've landed. Our new streaky rashers can easily trick a meat-eater into thinking they're eating pork bacon."
The launch is being supported by PR, social media, advertising and in-store activity. The new product will also be available to foodservice, with British restaurant group Bill's being the first operator to use it. Bill's will be serving the bacon in its Plant Plate, a plant-based Full English.
It follows the launch of a limited-edition meat-free festive pigs in blankets line earlier this month, while This also moved into ready meals in September.