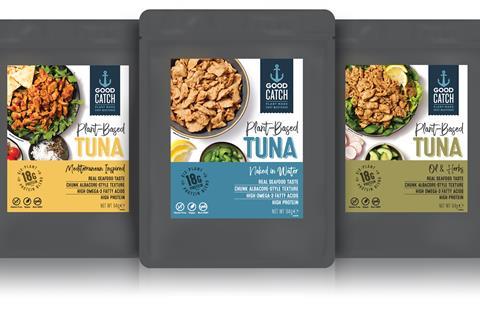 US plant-based tuna alternative Good Catch has landed on UK shores with a national listing in Tesco.
The brand, developed by Wicked Kitchen founders Derek and Chad Sarno and plant-based food investor Chris Kerr, started rolling into stores this week.
Pitched as an alternative to premium albacore tuna, Good Catch is an ambient product that resembles the flaky texture of tuna. Merchandised in the canned fish aisle, it is made from a blend of peas, chickpeas, lentils, soy, fava beans and navy beans with seaweed. The range also uses algae extracts to give it "a flavour of the ocean", said Kerr, and is fortified with Omega-3.
The brand is available in 94g pouches in standard 'naked in water', oil & herbs and Mediterranean variants (rsp: £2.50).
The product was carefully developed to ensure an authentic mouthfeel, said Kerr, who is also the chief investment officer of main backer New Crop Capital – a US-based venture capital fund that invests in plant-based startups.
"It's a big giveaway when it's bad and a really hard one to break." It was also versatile, Kerr claimed, with applications ranging from tuna melts and sandwiches to sushi, pasta sauces and pizza toppings.
"What we wanted to do was not focus on coming out with a new fish burger but rather a core protein that could be applied to local geographies," he added.
The product's relatively competitive price against canned tuna was helped by its production by an un-named UK manufacturer, suggested Kerr. However, the expected success of the range meant production may have to switch to the brand's soon to open new factory in Ohio to meet demand, he added.
Good Catch has already proven a hit in the US, with distribution rising to more than 4,500 retail outlets since launching in 2018.
Launching in the UK in such a relatively short time made sense as it was the "hottest market on the planet" for plant-based innovation, Kerr said, citing an 18% growth in sales of meat-free options last year [Kantar].
"For us not to participate in that would be unfortunate. We had to jump through a lot of hoops to launch in the UK market ahead of schedule, but it was critical for our overall plan," he added.
"It took brands like Beyond Meat and Gardein a decade to leave the US, but we don't have that much time – the oceans are in crisis and tunafish is starting to leave the planet."
"Good Catch is designed to give everyone the opportunity to enjoy a seafood experience without sacrifice," said co-founder and Tesco director of plant-based innovation Derek Sarno.
"Our products offer the same texture and flavour as fish, making it an easy swap for meals using tuna. People want nutritious and easy to prepare alternatives and this is exactly what Good Catch products are designed to deliver, so we're thrilled to be able to make them available at Tesco."