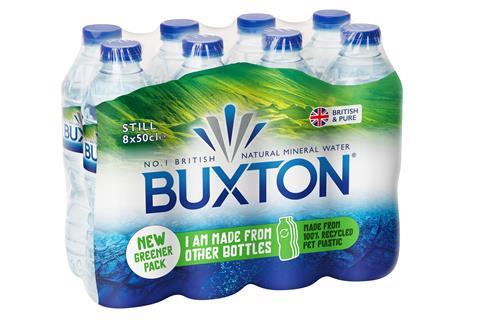 Buxton Water has taken a step towards greater sustainability with a new "greener" mutipack.
Its new 8x500ml packs contain bottles made from 100% rPET and are encased in film made from 50% rPET.
The brand's 500ml bottles were previously made from 51% rPET.
It has rolled exclusively into Tesco (RSP: £2).
Buxton said the move represented "another step" towards its goal of using 100% rPET bottles across all SKUs by the end of this year. Including the new multipacks, nine SKUs have already been transitioned into 100% rPET, with a further 10 to go by the end of the year.
When it first announced its plans to do so, the brand said it would have "liked to have made all of our Buxton bottles from recycled material sooner" but that "many challenges" stood in the way.
UK supply of rPET was "still relatively limited", explained Nestlé Waters UK business executive officer Michel Beneventi at the time.
To combat the issue, Buxton partnered with Biffa to source rPET from reprocessed bottles in the UK, in a move it said would "significantly reduce the amount of virgin plastic in circulation and help accelerate the circular economy for plastic in the UK".
Nestlé added its "ultimate ambition" was to have the brand become carbon neutral by 2023, with its parent company Nestlé Waters to follow by 2025.
It isn't the only bottled water brand pushing for greater sustainability. Its rival, Britvic, for instance, kicked off construction on a massive new rPET manufacturing facility in Leeds in 2019 and plans to make all its plastic bottles in Great Britain from 100% rPET by the end of 2022, spanning the entire portfolio of brands owned by it and its franchise partner PepsiCo.