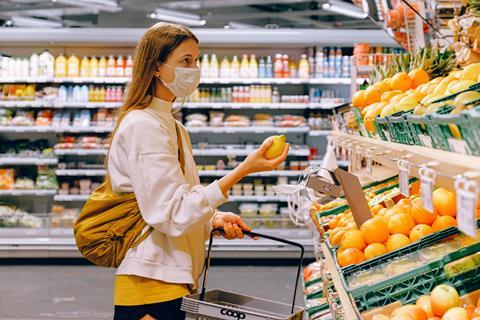 To prevent panic buying, the biggest drop in promotions count has been on multibuys

Tesco pointed out that its Aldi Price Match campaign had continued throughout the crisis

Assosia expects promotional activity to return to pre-lockdown levels as availability improves
Supermarket promotions are returning to pre-lockdown levels, but are still significantly down at most retailers.
Data compiled for The Grocer by Assosia show the number of multibuys and single product discounts offered by the major mults halved in the week before the lockdown from 35,197 to 18,838 in early April.
But while promo levels have picked up, increasing to 28,945, there are still 6,252 fewer deals to be found than before lockdown, an 18% decline.
Promotions are still down 35% at Tesco, 28% at Ocado, 23% at Asda, 14% at Sainsbury's and 12% at Morrisons. Only Waitrose had more promotions, having slashed promotions earlier in March, and it's currently running less promotions than any other major multiple.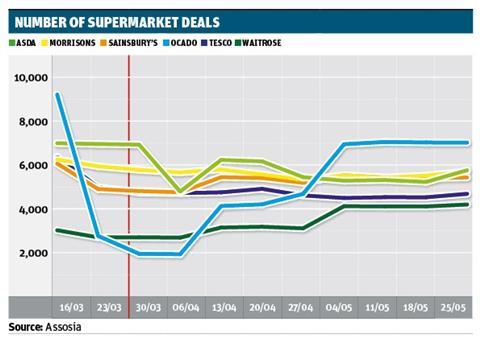 Tesco said many promotions had been removed at the start of lockdown to ensure availability and ease the strain on supply chains amid panic buying. It also pointed out that its Aldi Price Match campaign – which has been running since the start of March – had continued throughout the crisis.
An Ocado spokeswoman also defended its strategy on promotions: "Like all supermarkets, we temporarily removed a number of promotions to encourage customers to shop in a responsible way and to protect the number of delivery slots we could offer.
"Since April, we have been increasing promotions each month and are pleased that we are now very close to pre-Covid levels. In addition, with our Low Price Promise and everyday low prices, customers will always benefit from great, year-round value."
Certain products that were often on promotion before coronavirus are not, for the time being, due to supply constraints, the spokeswoman added.
To prevent panic buying, the biggest drop in promotions count has been on multibuys, down 25% vs 13% for single product offers. However, while Tesco (44%) and Ocado (46%) culled multibuys hard, Morrisons actually increased multibuys by 3%, while reducing the number of single product promotions by 23%. Sainsbury's 14% cut in single product promos was greater than the 7% cut in multibuys . Asda's approach was more even-handed, with both multibuys and price-only deals down by over 20%.
As availability improves, the expectation is promotional activity will return to pre-lockdown levels, said Assosia director Kay Staniland.
"Consumers are now used to the 'new normal' of queueing, but knowing stock levels are not an issue, are once again looking for deals and offers.
"With the number of people furloughed or losing their jobs. It's not enough now just to have good stock availability, consumers need to also watch the pennies and save money wherever possible," Staniland added.
The gradual return of promotions has resulted in a slight drop in overall supermarket inflation during May, following a price spike in April. According to The Grocer Price Index, collated for The Grocer by Edge by Ascential from over 60,000 individual SKUs, inflation in May eased back to 1.6% from just over 2% in May. April's inflation figure was the highest since December 2017 and the May inflation rate remains significantly higher than the 0.4% recorded in March.
On a month-on-month basis prices eased back 0.3% from April to May, suggesting the return of promotions is having a dampening effect on shopping bills.
Most of the major category drivers of inflation last month eased back in May. Inflation in health & beauty fell from 4.7% to 4.1%, frozen fell from 3.5% to 2.4%, deli dropped form 3.9% to 2.3% and soft drinks from 2.5% to 1.6%. However, the GPI's largest category of ambient food – which houses almost 17,000 SKUs – saw inflation remain unchanged at 3% year-on-year.
Amongst the supermarkets, Tesco had the highest annual inflation of 2.4%, followed by Asda at 1.5%, Sainsbury's at 1.4% and Morrisons at 0.9%. All four recorded lower inflation in May than in April. Waitrose, not in the overall GPI figure, recorded inflation of 0.9% compared to 1.2% in April.