About a year ago, the UK entered its first national lockdown in response to the Covid-19 pandemic. For retailers the shift has been seismic, with grocers experiencing some of the biggest changes.
In the weeks before the first official social distancing measures were announced, online shopping among Brits went up by 7%. By April 2020, the increase in online shopping had risen to 36% of the nation, according to data from Mintel.
The evidence suggests that demand for online shopping isn't going away even as restrictions ease. According to NielsenIQ, as reported by Reuters, Brits spent £1.4bn on groceries online this January , with nearly half of these sales coming from new online shoppers.
For small and medium-sized grocers, the acceleration towards omnichannel retail has been rapid and intense, highlighting the need for infrastructure to support consumers' shopping preferences, whether for online, click and collect, in-store or a combination. As businesses have grown and become more complex, grocers need the right scalable tools to meet current and future needs.
The hybrid shopper
Throughout the pandemic, Brits have embraced new ways to shop for groceries. Some 17.2 million of us plan to make permanent changes to our shopping habits after trialling new ways to purchase items amid last year's initial restrictions, according to a study by Alvarez & Marsal and Retail Economics from July 2020.
"Some 17.2 million Brits plan to make permanent changes to their shopping habits"

Alvarez & Marsal and Retail Economics
While some UK supermarkets offered click and collect and delivery options before the pandemic, the demand for online shopping has shown that the UK's grocers must adapt whatever their size. For independent grocers without the right scalable tools, balancing business online versus in-person can be time-consuming and costly.
However, when operations are managed centrally, businesses can get data-driven insights across every channel about performance and potential efficiencies. With an integrated electronic point-of-sale (POS) system, even small local grocers can improve their inventory management, manage cross-channel payments, and enable their businesses to adapt to rapid shifts in consumer preferences or regulations.
Integrated sales
Businesses with an electronic POS can accept a broader range of payments from customers, ensuring they never miss a sale. New data reveals that most payments are now made by card, with less than a quarter of payments now made with cash, according to a report by Square from July 2020.
Deeper understanding of sales and inventory is also possible through an electronic POS, giving businesses better insight across their operations. It can capture data across all channels, which grocers can use to determine which products to restock, critical times to push out deals, and more.
It's therefore important for grocers' online and in-store tools to be synchronised. This is where powerful integrated POS systems like Square Register can help, empowering grocers to run their business across all channels from one place while also being more robust and intuitive than previous systems. No additional hardware, software or card machines are required.
This provides an incredible experience for customers and business owners, says the company. The system features a detachable customer-facing display with a built-in payment terminal (with a 2m cable available for extra distance), and a larger screen for sellers to process purchases, run their online store and access Square's business tools, like Analytics and Inventory Management.
Case study: Deli Downstairs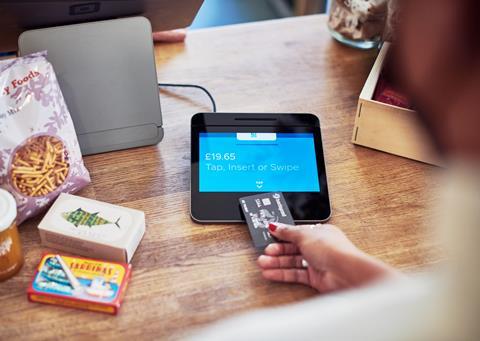 One independent UK grocer which had the infrastructure to adapt its business operations over the last year is Deli Downstairs. Based in Hackney, London, the shop is owned and run by Sophie Taylor, offering reasonably priced essentials for the local community, as well as luxury items for a special treat.
While the business was in good shape going into 2020, the pandemic brought a new set of challenges. Taylor needed to build out her online offering to drive sales during lockdown restrictions, while ensuring the business could quickly adapt to new government guidelines.
"In the past year, we have gone from using a calculator to running most of the business with Square," she says. With Square, Sophie was able to synchronise online and in-person operations, allowing her to quickly set-up free local delivery at the start of the pandemic.
The business remains open, in line with current government guidelines and thanks to 20 part-time workers. With an electronic POS in place, it can navigate its business online and in-store with ease. "Meeting the needs of the local community has been critical and using Square Register means we can smoothly manage our inventory and seamlessly sell in the deli and online, thanks to Square Online," adds Taylor.
Grocery beyond lockdown
Brits' shopping habits have evolved significantly evolved over the last year, and businesses must ensure they are meeting shoppers demands. Given the massive shift to online shopping, the UK's grocers can ensure their business is ready to support the new ways in which customers are buying groceries, whether online or in-store.
An electronic POS can play an integral role, giving grocers the tools and confidence to manage their online and in-store business and operations from one place. This real-time actionable data provides business-critical insight into what to change and what to keep the same.
The UK's grocers must have the flexibility to adapt to the world as lockdown restrictions ease and things continue to change. With the right infrastructure in place, they'll be ready for what comes next.