"Now is the time for everyone to stop non-essential contact with others and to stop all unnecessary travel." And with those ominous words from Boris Johnson on 16 March 2020, life as we knew it changed unimaginably and thousands of British companies were thrown into a state of limbo.
For many businesses, not least in retail and manufacturing, 2020 has simply been a story of survival. Others, meanwhile, have been undeterred by the events of the past 12 months and, instead, have sought to adapt to the needs of the customer and new opportunities presented by the emergence of shifting consumer trends resulting from the Covid-19 pandemic.
As NPD consultant Ben Peatfield points out: "Necessity is the mother of invention." And this mantra has been adopted by numerous product development teams across the industry, which have released swathes of new innovations in the face of unprecedented threats and challenges. In fact, many were rewarded at The Grocer New Product Awards in November, with everything from bagged snacks to pet food to plant-based foods acknowledged in the shortlist.
But one category, in particular, has been right at the forefront of innovation during the pandemic: health & beauty.
Perpetual public health warnings to wash our hands regularly and improve general cleanliness have resulted in a raft of new product launches being released in an effort to stop the deadly spread of coronavirus. So, while demand for personal care items may have declined, largely due to more people working from home and fewer opportunities for social occasions, new antibacterial hand creams, laundry sanitisers and clothing sprays hit the market with the aim of catering to the needs of coronavirus-conscious shoppers.
As a result, one of the biggest trends to emerge from the health & beauty market during the pandemic has been the growth of antibacterial products.
In fact, studies show people have significantly increased their personal hygiene standards since the pandemic, with a Streetbees survey showing that 43% of people have made such changes during lockdown.
British Beauty manufacturers, Creightons (owned by Potter & Moore Innovations LTD) is one company that has sought to meet this consumer demand. However, as well as reacting to specific market trends resulting from Covid-19, what makes its most recent NPD stand out from the crowd is the way in which it has married health and beauty simultaneously.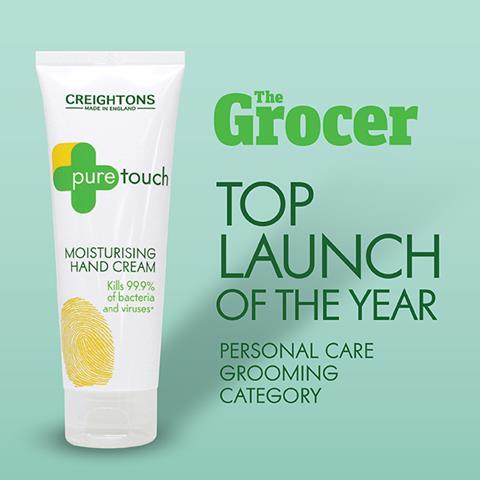 Earlier this year, the personal care manufacturer spotted a gap in the market. As the use of antibacterial gels and handwash skyrocketed, the effects of alcohol and other ingredients in these products also prompted increased demand for moisturising hand cream to help combat a rise in overly dry or cracked hands.
The result? A hand sanitiser cream launched under the Pure Touch brand, which is claimed to be the first of its kind on the market and billed as killing 99.9% of bacteria and viruses. Unveiled in July and registered as a biocide, the product was recently named among The Grocer's Top Products of 2020.
"Very quickly after Covid started, we found that we were getting a lot of enquiries about hand creams, as people were finding that, through frequent hand washing and use of alcohol hand gels, their hands were becoming very dry and they were getting cracked and irritated skin," says Mark Bullimore, senior technical development manager at Potter & Moore Innovations LTD.
"The question then became whether we could meet this demand and provide an antibacterial product with the moisturising benefits of a hand cream, rather than people using antibacterial hand gel and then having to moisturise afterwards."
Challenges and (long-term) opportunities
Creightons, like many other companies, has faced its fair share of challenges in getting new products to market this year. For the personal care manufacturer it was about finding the right combination of materials to optimise the efficacy of the biocide, while there was also higher demand for testing of this kind due to the ongoing pandemic.
For many businesses, product development teams have had to contend with the added complications of remote working, fewer people in laboratories and test facilities, and some retailers requesting that suppliers focus on range rationalisation to meet volumes. This may go some way towards explaining why innovation accounted for just 2.9% of supermarket sales in the 12 weeks to 17 May 2020, according to Kantar figures, compared to 5.3% of sales the previous year.
However, household and health & beauty brands, largely due to necessity because of the pandemic, sought to buck this trend. The question now, with the vaccine gradually being rolled out, is whether the rise in health and hygiene awareness driven by Covid-19 will continue once the pandemic is finally over.
In many ways, as trend analyst and consultant Hannah Atton explains, health has been a top priority for consumers for some time now. Coronavirus, she says, has simply heightened and expedited this trend in terms of food, fitness and overall health.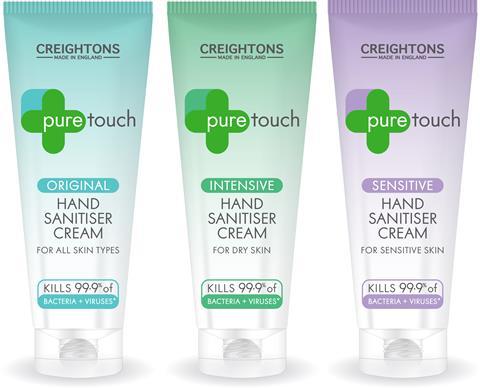 "These emotions connect to Gen Z consumers, who have a holistic approach to health and are seeking products that go above and beyond the norm," she says.
"Consumers also want brands to connect to their emotional needs and for brands to showcase the same values as them, such as being transparent, ethical and sustainable."
For health & beauty products in particular, there are signs that this increased awareness of the importance of hygiene and cleanliness is no flash in the pan. "The early reports and trends we're getting are that extra hand washing and using gels more regularly is here to stay," says Clare Robertson, brand manager at Potter & Moore, who reveals that its new hand sanitiser cream is set to undergo a brand redesign next year (see image) and launch new SKUs to further tailor its new product to the customers individual needs.
Indeed, the hand wash category is forecast to remain in strong growth with Covid-19 altering hygiene awareness and routines over the long term. This is backed up by another survey from Streetbees, which found that 93% of consumers plan to retain some routine changes going forward, such as taking vitamins and washing hands more frequently.
This suggests that, as consumers rebuild their lives following the pandemic, there will continue to be plenty of new opportunities for NPD teams to experiment and innovate in this category, as Creightons has already proved.
Peatfield concludes: "I firmly believe the takeaway from Covid will be that you can't put a price on health, or your life. I think that will resonate for years to come."