Amid the confidence-sapping environment of Covid-19 and Brexit, there are signs that consumers are increasingly drawn to locally-sourced food. With British shoppers trusting food and drink from the Republic of Ireland more than any other EU country, Bord Bia (the Irish Food Board) argues that familiar standards and reassurance of quality are key.
Bord Bia's Thinking House commissioned independent research agency Opinions to conduct a nationally representative study among UK grocery shoppers. In January, this study revealed that 60% of British consumers feel that the current economic situation has hurt their buying confidence1.
More than a third acknowledge fears about Brexit in terms of spending power and the economic impact of the pandemic. In this environment, 28% of British shoppers feel that buying locally-sourced food and drink has become more important2.
Promise of quality
Being local is partly about being nearby, but it is also about quality perception. This includes production methods, processes and standards.
British consumers' search for local food leads them to products made under quality systems that are familiar and reassuring. This touches on shoppers' desires for sustainability, environmental protections, animal welfare, traceability, grass-fed methods, and food safety, which have become especially important given greater health sensitivities.
Consumers see these factors as indicative of quality products, which they are often prepared to pay more for. For example, Bord Bia's European Meat Shopper Insight Tracker conducted with Empathy Research says 74% of UK beef shoppers say beef is worth paying more for, compared to 71% in the same period in 2020, meaning that shoppers are now happier to pay more for better quality beef3.
Home cooking, baking, and scratch cooking with quality products have become more common throughout lockdown, with the rise being forecast to continue. This has all contributed to expectations that grocery spending will increase4.
Local trust
While being local suggests quality that consumers will pay for, it also links to a sense of trust, perhaps irrespective of where the product has come from.
Given that 53% of British consumers feel that the impact of Covid-19 and Brexit is out of their control5, many are looking for reliability. British shoppers trust food and drink from the Republic of Ireland more than products from any other EU country or the EU itself6.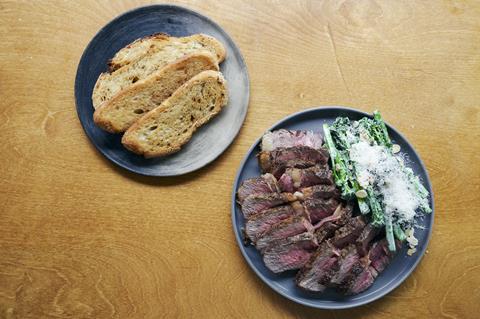 According to Bord Bia's Irish Beef Brand Tracking research, two-thirds of the British population also see Irish beef as local7. This is on par with perceptions of food from other UK countries, and higher than the respective figures relating to other EU countries.
Being local and being trusted are connected, with consumers reassured by familiar production processes and standards. Grass-fed beef is a prime example, with both British and Irish beef farming enjoying positive consumer perceptions, as shown in the global trend of grass-fed new product development (NPD) growing by 27% since 20158.
Bord Bia's recent launch of Ireland's National Grass Fed Standard for beef backs this up, with 68% of British beef shoppers stating that they would be more likely to purchase a beef product displaying the Grass-Fed Standard logo9.
Farming quality assurance schemes also play into a sense of being local and trusted. Ireland's Sustainable Beef and Lamb Assurance Scheme (SBLAS) meets Irish meat buyers' growing demand for proof that meat is produced on farms certified by an accredited quality assurance scheme based on sustainable principles.
How trust leads to purchases
Most importantly for brands, trust is an important trigger to motivate consumers from consideration to purchasing. As seen in Bord Bia's Future Proofing Research, since the pandemic outbreak 15% of British families have been buying brands they know and trust more often10.
This is an important insight for any brand, and especially encouraging for Irish beef. 88% of British consumers are open to purchasing Irish food and drink11 and 88% state that they would buy Irish beef12. This is a positive sign for the continued success of Irish beef in the UK.
While trust is key in motivating consumers to consider and try food, the product must always fulfil expectations of taste and quality. Irish beef has a global reputation for quality and is the choice of many Michelin Star chefs and discerning retailers. At the World Steak Challenge this quality was confirmed when Irish beef won more medals than any other country.
Responsible for this were the familiarity and trust of the product, rooted in grass-fed diets, natural grazing and a strong tradition of animal welfare. This leads to beef that is tender in texture and immensely rich in taste.
The evidence is that perceptions of being local are driving British consumers' meat habits, and that the trust it inspires is central to consumer needs, irrespective of the food's origin. The meat industry must continue to answer this deep emotional need.
All research referenced has been commissioned by Bord Bia, but was undertaken by independent research agencies as agency partners.
Sources:
1, 2, 6, 11 Bord Bia, UK Consumer Pulse, January 2021
3 Bord Bia, European Meat Shopper Insight Tracker, December 2020
4, 5 Bord Bia/Canvas 8, Feeling the Pinch 2020+, October 2020
7, 9, 12 Bord Bia/Red C, Irish Beef Brand Tracker, December 2020
8 Grass-Fed NPD Highlights by Mintel, 2020
10 Bord Bia/Opinions, UK Future Proofing Toolkit: 200 Days On, October 2020