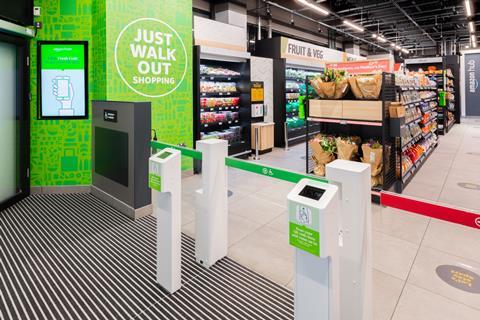 Amazon has launched a checkout-less convenience grocery store in Ealing, its first physical retail site outside North America.
The 2,500 sq ft store, at the entrance of Ealing Broadway shopping centre, features Amazon's 'Just Walk Out' technology. Customers scan their phones on arrival, fill their bags with products and leave without any interaction with staff or a self-checkout machine.
The Amazon Fresh store is a "new convenience grocery format" for the e-commerce giant, director of Amazon Fresh Stores UK Matt Birch told The Grocer. In the US 'Just Walk Out' technology can be found in small footprint Go and Go Grocery stores, but not in its Amazon Fresh branded larger supermarket sites.
The company would "like to open a few more in and around London in similar locations and see how they go" Birch added.
"The format we're opening – we're working back from what we think customers really want," he said. "And what we've seen with convenience grocery is customers love shopping this range of products in convenient locations, and with this technology we're making it even easier. We think it's going to be a really good format customers are going to love."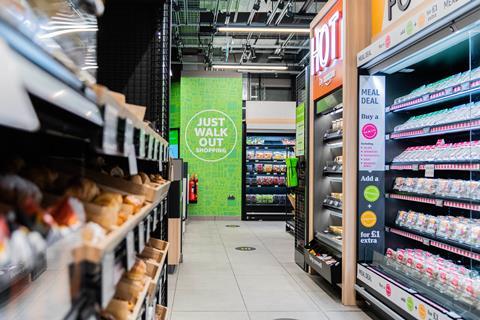 The branding matches the Amazon Fresh online store, availability of which Amazon has extended to "millions of Prime members across the country" the company said. "It stands for fresh and tasty products at great value wherever you see that across all channels," Birch explained.
The store's technology made the shopping experience safer during the pandemic, Birch said, as customers "don't have to pick up a basket" or touch a trolley.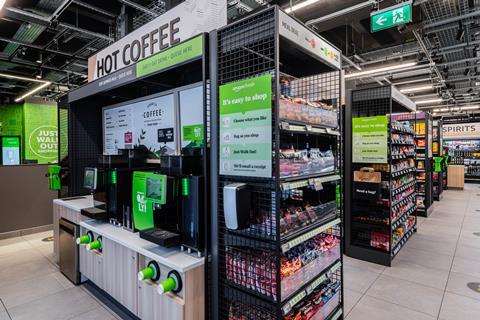 "At the end of the shopping there's no need to interact with a touchscreen or self-checkout, or anything other people may have touched. So literally if you come and shop with us the only things you really need to touch is the products you're taking. We think it's a really safe way for people to shop," he said.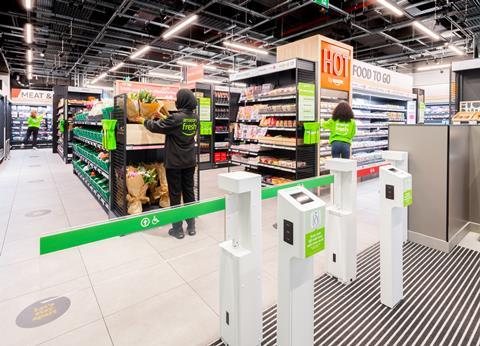 Amazon has installed a traffic light system at the entry to limit customer numbers to 20 at a time, and ensure social distancing. Customers will be supplied with a face mask if they don't have one, and there are hand sanitising stations situated throughout the store. The shop is open from 7am to 11pm, seven days a week.
Amazon has employed staff from within its business and externally to work in the store and is paying them £10.80 an hour, with additional medical and pension benefits "from day one".
Key features
The store features a grab-and-go hot and chilled selection, which will be prepared by staff through out the day on site. The range includes granola porridges, pasta dishes, soups and burritos. Alongside are fresh bakery products including croissants, fresh bread and pastries. Amazon is supplementing the bakery range with products from Edgware artisan supplier The Flour Station.
Two takeaway coffee machines have been positioned near the front of the store, one offering dairy-free drinks, with dairy alternatives supplied by Oatly.
A food-to-go selection features "traditional favourites" Birch said, such as a chicken and bacon sandwich, as well as "some things that are quite surprising" such as a a 'No Hog Roast' vegetarian sandwich and Katsu chicken with coconut slaw and sticky rice box. The store will be offering a meal deal in which any 'main' can be combined with a snack and drink for £1 extra.
Chiller cabinets and freezers will stock Amazon and branded own brand items. A line of 'meals for tonight' are being offered – among them lasagne and Malaysian rendang, each made with British beef – with any main course and any side for £5.
The store also has space dedicated to display of Amazon devices.
At the back of the store, a manned desk serves as a pick-up and return point for orders made on Amazon.com. "You'll be able to go in the Amazon website or shopping app and select the Amazon Fresh store as the point for delivery," said Birch. "We'll deliver the parcel to store, hold on to it for seven days, and customers can pick it up whenever it's convenient for them. And if they want to return a product they can, Iabel and packaging free. Just bring the product back."
A store cupboard aisle will feature Amazon own-label essentials, supplemented with products from Morrisons and Booths. "We know customers use these stores for stocking up store cupboards, shopping for few days, maybe doing a weekly shop. So we've made sure we've got all of the products customers would expect from a convenience grocery store and also the brands that they're familiar with."
Fresh fruit & vegetables are also on sale. The 'Just Walk Out' technology allows for customers picking items up to inspect them, and replace them on shelves.
A second Amazon Fresh store is understood to be opening in Notting Hill Gate, on the site of a former independent book shop.
The Ealing store – a former Monsoon – was selected as the first UK location because "it's a place where lots of people live, and they're shopping locally" Birch said.
"It's a place people travel to and from work: there's a tube station, train station, lots of bus links. And therefore a place where people are shopping locally, travelling and really want that convenient seamless experience which this format is going to bring for them," Birch said.
Future sites would similarly be in "high-density residential locations".
"We also think this can work well in more city centre locations and urban locations in due course," Birch said.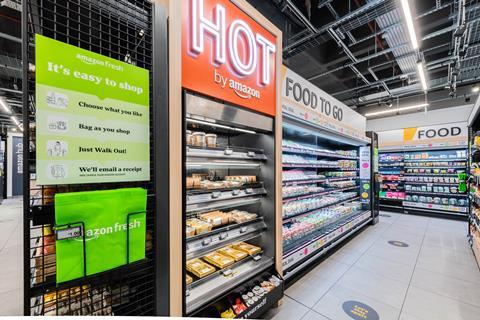 Amazon expert Miya Knights, author of Amazon: How the World's Most Relentless Retailer will Continue to Revolutionize Commerce, said the launch put pressure on UK grocers to "raise their game".
"The big four currently expect us to scan, bag and pay for our own goods, and only then do they want to know whether we've got a loyalty card. Both Sainsbury's and Tesco have been experimenting with similar checkout-less systems, but it shows the gulf between them and Amazon that the latter has now been able to roll out its model internationally," Knights said.
"Amazon also knows its 'Just Walk Out' format plays well to the pandemic-induced demand for low and no-touch store environments. So, in ploughing ahead with its launch now, it will definitely steal a march on its competitors, and I expect it to move ahead aggressively with the expansion of stores in the UK," she added.
Dr Kris Hamer, VP of research at Retail Insight, said the technology involved in the store meant higher fixed costs for the company.
"They may be small formats, but they will face high fixed costs, which puts them at a competitive disadvantage to their rivals," said Hamer. "At the same time, they position themselves as an EDLP operator with a 365 Everyday Value range, which keeps margins lean. But with annual revenues five times the size of Tesco, Amazon will have much deeper pockets to invest in refining its strategy and operating model."