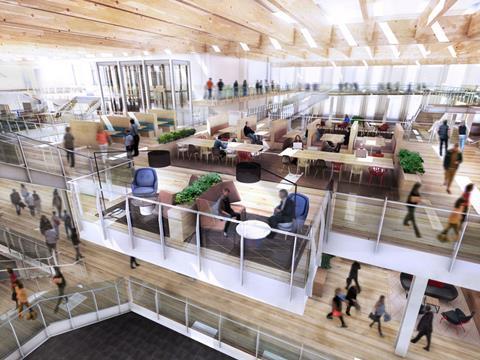 Waitrose is set to become the first major supermarket to operate a cashless store.
The facility will open this summer within Sky TV's new flagship headquarters at its campus at Osterley, West London.
The Little Waitrose store will employ 20 staff and have five self-service tills, accepting payment by card or mobile devices only.
At 1,400 sq ft, it will be the retailer's second-smallest branch, serving 3,500 Sky staff plus visitors to the Sky Central HQ building.
"Opening on the Sky campus is an exciting opportunity for us to respond to how customers wish to shop in this flagship workplace setting," said Waitrose director, convenience, Jackie Wharton.
"Our convenience model is now more flexible than ever, especially as payment methods and ranges continue to evolve, so we'll look forward to exploring other opportunities like this in the future."
The store will be only the second in the Waitrose estate to be within a workplace setting. Its only other such facility is its 520 sq ft shop at British Airways' Waterside headquarters in Harmondsworth, which opened in 1998.
"We are confident we are the first major supermarket branch, at least, to open a cashless facility," a spokesman added.
The store's cashless design is a response to how Sky staff said they wanted to be able to shop.
The branch will have a focus on evening meals and food to go, including fresh sandwiches, wraps and sushi. It will also stock a selection of fresh produce and ingredients, celebration cakes, freshly cut flowers and store cupboard staples, with bread and croissants baked each day. In addition, there will be travel accessories and a mini health and beauty range designed for staff making last-minute decisions about travel or activities such as using the on-site gym.
"Our goal is to make Sky a great place for all our colleagues to work, and having such easy access to this new shop will be a huge benefit," said Nick Green, director of Sky's property service group.
The new Sky Central headquarters building will add to the broadcaster's Osterley campus, which is home to 7,250 people working at Sky Studios, a health and fitness centre and the Believe in Better Building, which houses the Sky Academy for young people.