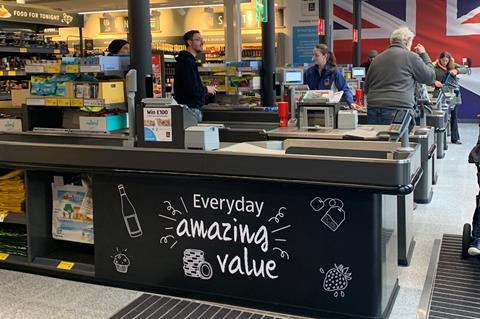 The business book Blue Ocean Strategy challenges a paradigm held by many marketeers. It suggests that rather than deciding to focus on product differentiation or price, companies should aspire and plan to improve both at once. In other words, to get better and cheaper. That is the way to sustainable and even spectacular growth.
This certainly raises the bar when you are considering your company growth strategy. It's enough of a task to offer better products. Or to make your products cheaper. But both?
Aldi Local, the new convenience store in Balham, is a significant step away from Aldi's tried and tested store model. The space is a third smaller. The location is in a busy high street. There are no SpecialBuys (the non-food bit in the middle). But the result for the shopper is impressive.
The food offer is an edited version of the full Aldi range (1,500, not 1,800, products), but with a bias to the premium end. For example, the Specially Selected range is very prominent in the Meal For Tonight categories. Products are well merchandised, with good lighting, colourful header boards and excellent display standards. Navigational signage is clear, making it easy for shoppers to quickly find and choose.
Overall it is a pleasant shopping experience, comparable with the newer Co-ops, themselves among the best new convenience store designs in the UK.
But the delivery of price and value has not been lost. Some price points are higher than in other Aldis but it is still easy to find impressively low prices. In the respective food to go sections, a can of Diet Coke is 52p in Aldi versus 85p in the Sainsbury's up the road, and a bottle of fizzy water is 25p vs 60p in Sainsbury's. This is the kind of difference shoppers will notice. A demi-baguette from the in-store bakery is 22p. So if you are really watching your money, the store delivers.
In short, Aldi Local offers quality and price. In the past decade or more, convenience has been a sector in which Co-op, Tesco and Sainsbury's have found it easier to win, against less well organised competition. But if Aldi can roll Local out efficiently – and it is said to be extending the trial to seven further London stores – then competition could be about to get a lot tougher in the convenience end of our industry.