Last month, Waitrose unveiled its revamped premium range Waitrose & Partners No1. The upmarket retailer has moved away from the common dark colour palette associated with premium own-label ranges in favour of neutral grey packaging and has bolstered it with over 200 new launches and reformulations.
To give you a closer look at the range, we've chosen a range of products and enlisted an expert to give you their opinion about what works and what doesn't.
This time, expert analysis is from Creative Coup director Anton Vann.
This showcase is part of a new series of articles examining key trends and developments in own label and has been introduced to support The Grocer Own-Label Accreditation Scheme. Under this new scheme, all the products we review can apply for accreditation at any time, through a programme of continuous consumer testing and approval, developed to help retailers and suppliers promote the best own-label products. You can find out more about The Grocer Own-Label Accreditation Scheme here.

You might be interested in our other own-label showcases – we've analysed Sainsbury's Taste the Difference revamp, Ocado's premium Gold range, M&S's vegan range Plant Kitchen, Amazon's private-label brands, Waitrose's Cooks' Ingredients lineup and Spar's convenience-led wine range.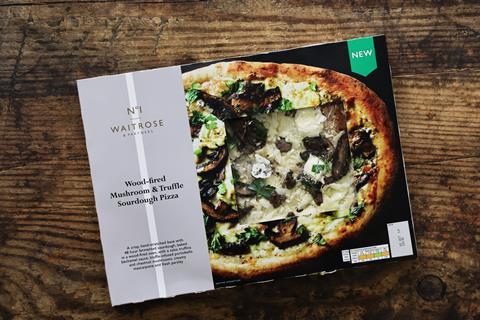 No1 Wood-fired Mushroom & Truffle Sourdough Pizza
Rsp: £6
Waitrose says: "A crisp, hand-stretched base with 48-hour fermented sourdough, baked in a wood-fired oven with a salsa truffina béchamel sauce, truffle-infused portobello and chestnut mushrooms, creamy mascarpone and fresh parsley."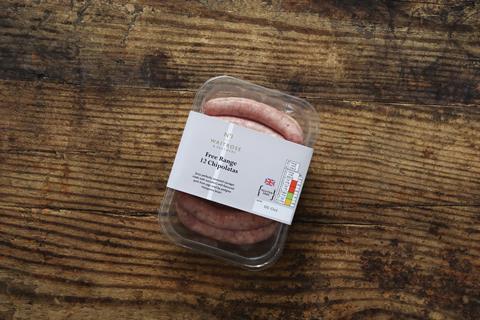 No1 Free Range 12 Chipolatas
Rsp: £3.49/375g
Waitrose says: "Juicy, perfectly seasoned sausages, made with succulent, well-flavoured pork from pigs sired by pedigree Hampshire boars."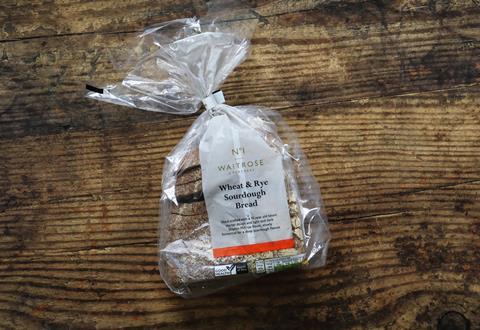 No1 Wheat & Rye Sourdough Sliced Bread
Rsp: £2/500g
Waitrose says: "Hand-crafted with a 10-year-old levain starter dough and light and dark Shipton Mill rye flours, slowly fermented for a deep sourdough flavour."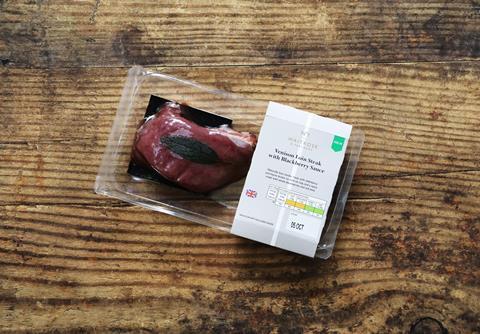 No1 Venison Loin Steak with Blackberry Sauce
Rsp: £7.99/180g
Waitrose says: "Naturally lean, tender meat with elderberry and thyme butter to melt on top, and a sauce made with whole blackberries and red wine."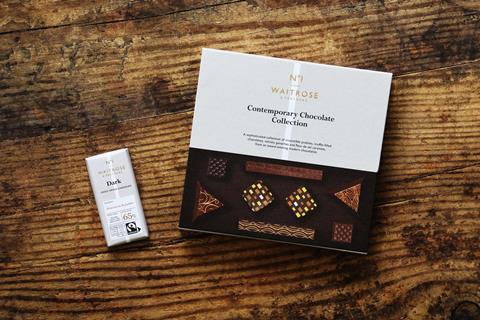 No1 Contemporary Chocolate Edition and No1 Dark Chocolate
Rsp: £8/155g and 75p/30g
Waitrose says: "A sophisticated collection of irresistible pralines, truffle-filled chocolates, velvety ganaches and fleur de sel caramels from an award-winning modern chocolatier."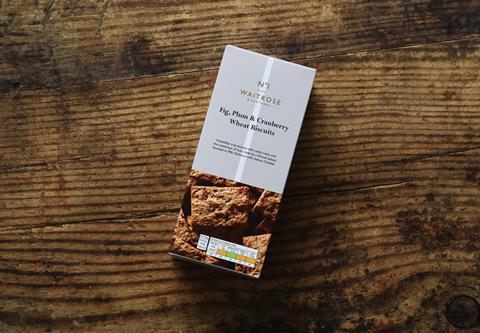 No1 Fig, Plum & Cranberry Wheat Biscuits
Rsp: tbc
Waitrose says: "Irresistibly crisp biscuits with malty notes and the sweetness of fruit, made by a Dorset bakery founded in 1916. Delicious with mature cheddar."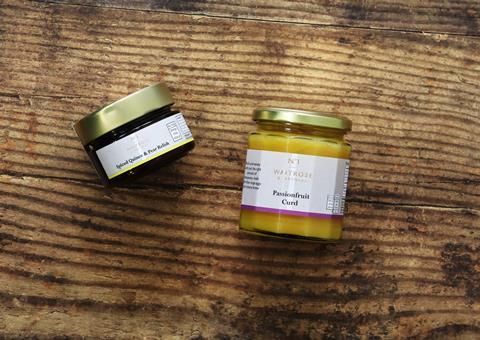 No1 Passionfruit Curd and No1 Spiced Quince & Pear Relish
Rsp: tbc
Waitrose says: Relish: "Fruity with a touch of sharpness, made with ripe juicy fruit and spiced vinegar." Curd: "Rich and velvety with just the right amount of sharpness, made with free-range eggs and creamy butter."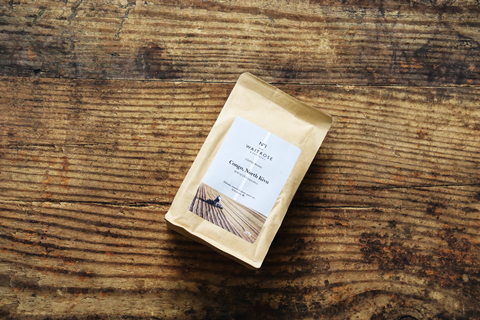 No1 Coffee Beans Congo, North Kivu
Rsp: tbc
Waitrose says: "Notes: delicate, stewed rhubarb, peach tea. Speciality Coffee Association score: 86."
Expert verdict
Commentary is from Creative Coup director Anton Vann.
What do you think of the packaging?
The packaging is minimalist and feels sophisticated yet understated. To elevate the range and cue premium, the design opts for gold foil, linking in nicely with gold foil replacement of trays in some products, part of Waitrose's drive towards recyclable packaging.
There is a prominent white line dividing the packs in two (perhaps borrowing from the former Waitrose & Partners logo rebrand) that works on some products, but not so well on others.
This design relies on open space to be able to bring across the minimalist, stripped-back contemporary feel. So where the pack size is really small, such as on the Spiced Quince and Pear Relish, the premium feel is somewhat lost, a common problem with such a variety of pack sizes.
The coffee beans packs stand out from the range and feel somewhat disconnected. This is down to the heritage shot of the farmer rather than the product itself being the hero on pack, which Waitrose has used across the other SKUs.
Overall, the new packaging is fresh, modern and contemporary rather than super premium, with some SKUs working better than others.
What does this revamp tell us about what's happening in premium own label?
Increasing numbers of shoppers have indicated that they become loyal to a store based on its own-label brands. As a result, demand for premium and organic offerings are increasing. Seeing as premium products drive higher revenue and offer even better margins compared to the already great margins of everyday items, it makes sense for a retailer to cater to this need.
We'll see more and more investment by retailers in their premium ranges in future.
What do you think this range tells us about the wider Waitrose business?
This range refresh forms part of the & Partners rebrand that started in 2018, and it's important to note that the use of the new name across the packaging continues to push what Waitrose and John Lewis think sets them apart from the competition: their staff.
But, with the & Partners message both inward and outward focused, whether the consumer cares one way or another remains to be seen.
What do you think about the No1 range overall?
On a busy supermarket shelf, this stripped-back design is actually soothing on the eye. The range stands out by virtue of the fact that it's not shouting so loud. Because the branding isn't fighting hard for attention, it allows the quality of the product to speak for itself.
Work in own-label?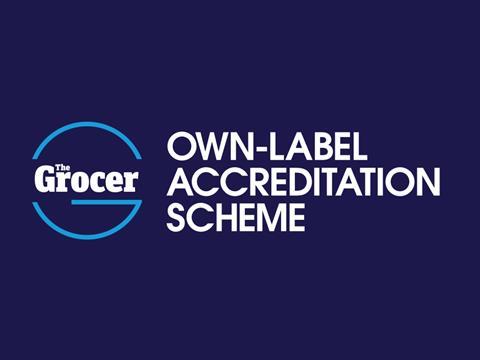 The Grocer Own-Label Accreditation Scheme allows UK retailers to gain independent consumer approval of their products and a robust, objective analysis of their quality and purchase intent.
The accreditation scheme is unique and offers continuous review by consumers for consumers. It also delivers quick results to optimise sales during key seasons as well as promote trial of new and exciting lines. Find out more here.


Ellis looks after the day-to-day running of thegrocer.co.uk and The Grocer's social media channels, alongside creating and co-ordinating digital content.
Ellis joined The Grocer and moved south in 2015 after working as a local news reporter in her home town of Glasgow. Ellis doesn't work on a particular patch, and you'll find her writing about a vast range of topics across the universe of food and drink, but she specialises in own-label, culinary trends and internet food culture.
Follow Ellis on Twitter: @ellishawthorne