Opulence, betterment, 'something for everyone' and novelty were the four key trends that Asda says it has attempted to incorporate into its Christmas range for 2019. That meant plenty of lavish party foods in fun formats, a convenient take on Christmas dinner centrepieces and choices for everyone across all categories, of all tastes and diets.
Here are 10 of its new festive products that caught our eye.
Check out our other Christmas 2019 range previews.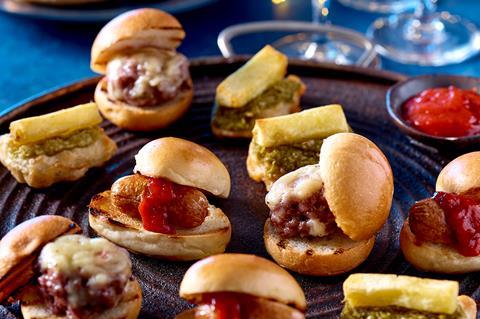 Mini pub party food
It's all about the novelty across Asda's party food range this year, with this selection of Extra Special mini pub classics one of the highlights. The selection includes bite-sized cheeseburgers, mini posh hot dogs and mini fish & chips, made up of a tiny portion of tempura-battered fish topped with a single chunky chip and some pea purée.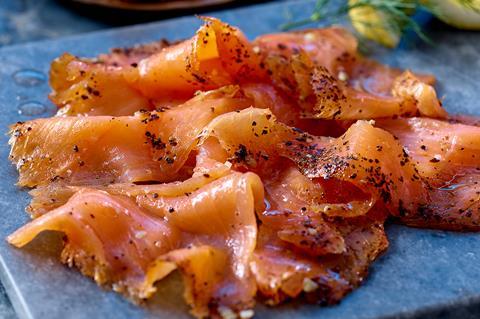 Gin-smoked salmon
From pink gin cream, to toasted marshmallow gin liqeur and this gin-smoked salmon, the spirit du jour is ubiquitious across Asda's 2019 range. These slices of Scottish smoked salmon are smoked in traditional brick kilns and then soaked in Makar Scottish gin before being topped with lemon zest and crushed juniper berries.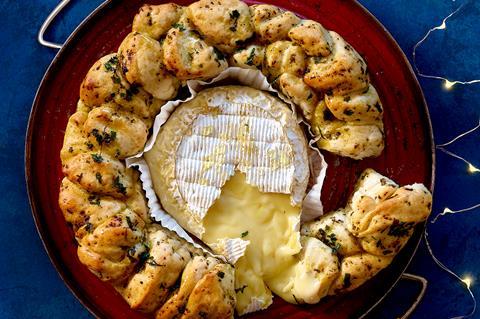 Garlic & Herb Bread Wreath and Baking Camembert
Sharing is another big theme at Asda this year, as this indulgent herb bread wreath shows. Both the garlic & herb-infused bread and the French ripening camembert in the centre are ready to bake and share (or not) with your loved ones on Christmas Day.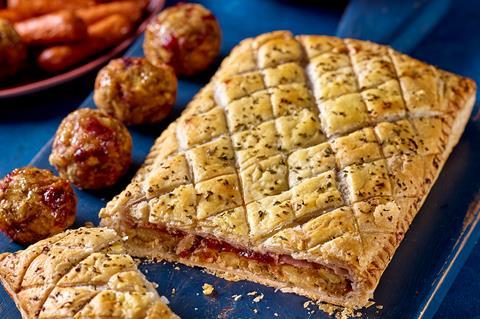 Festive Vegan Wellington
As well as plenty of vegan sides (such as no pork cocktail sausages and cranberry & apple stuffing balls) those going meat-free at Christmas will be able to indulge in this festive vegan wellington from Asda. Puff pastry is packed with chickpeas, cranberries, apricots and blended with 'festive' spices, then topped with a sweet cranberry sauce.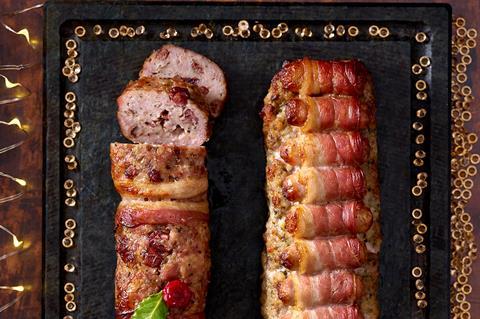 Extra Special Christmas Cracker / Pigs in Blankets Centrepiece
These showstoppers caught plenty of attention at the Asda showcase. Both measuring at around 12 inches long, the Christmas Cracker is made with a 'festive' blend of meats (turkey and pork) as well as all the trimmings, including mashed potato, parsnips and brussels sprouts. And for those so obsessed with pigs in blankets they'd rather it was the main event, the second centrepiece has no less than 12, topping a bed of pork, sage & onion stuffing.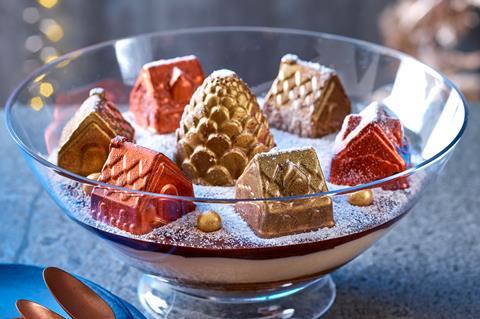 Winter Village Millionaire's Bowl Dessert
For those that aren't such a fan of the classic Christmas pud there'll be this extravagant alternative from Asda this year. It's made up of small bronze and gold dark chocolate houses, topping layers of crunchy digestive crumb, chocolate-coated honeycomb, salted caramel sauce, a Belgian white chocolate mousse and – finally – a milk chocolate ganache.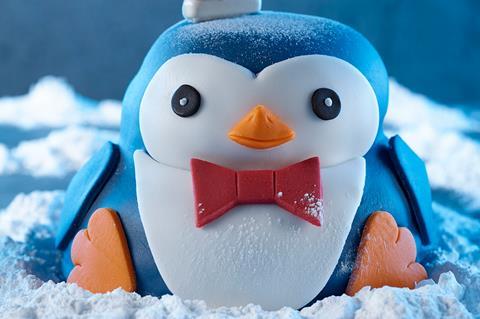 Pip the Penguin Cake
Pip made quite the star appearance in this year's Asda range, with mini penguin cakes also on display. But for those looking to go all-out there's this full-size Pip cake made with soft sponge and raspberry jam and finished with icing and edible decorations that are almost too cute to eat.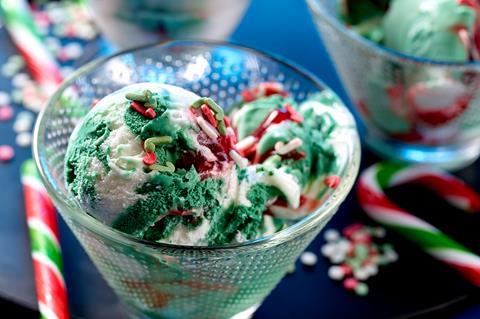 'Elf' ice cream
For those looking to sprinkle a Christmas colour palate on each dish, this 'Elf' ice-cream will be on sale. Coloured with red and green, it tastes of raspberry and white candyfloss, and is even sprinkled with multicoloured candy cane sugar shapes.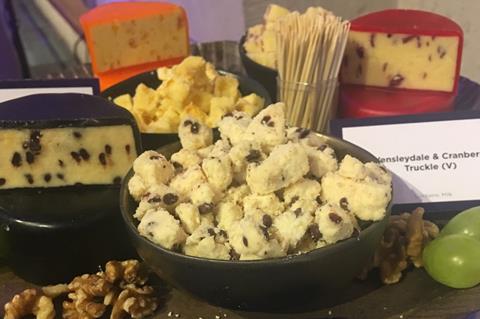 After dinner mint truckle
Alongside the classic cheeses in Asda's range this year are two more novel flavours. One is this after dinner mint truckle that mixes crumbly cheese with a burst of peppermint flavour, and the second a chocolate orange truckle. One to surprise guests at the end of a meal, one buyer suggests.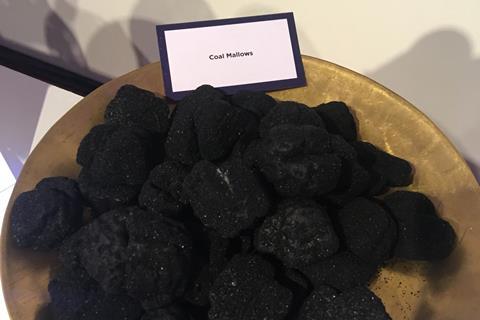 Coal mallows
Naughty kids to feed? Well, these coal marshmallows sprinkled with coloured sugar are a clever addition to the Asda range that might work perfectly sitting at the top of a stocking.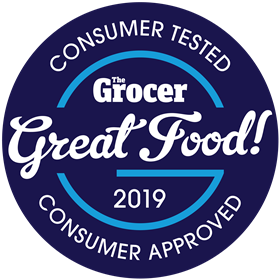 How do you know if the own brand product you're buying is as good as the big brand version? By looking for our Great Food and Great Drink labels, of course. Supermarket products with these on let you know that they have been tried, tested and loved by an independent panel, which is made up of hundreds of shoppers from across the UK.
Look out for the logos in store now.