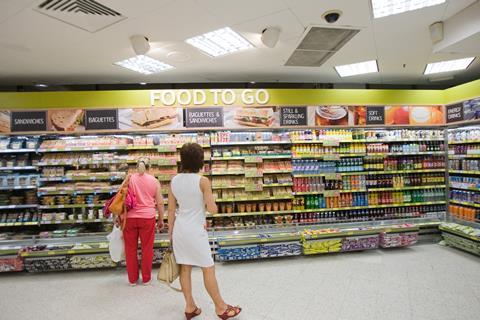 Tesco has given its meal deal offer a boost in a bid to lure shoppers back to the fixture as lockdown eases.
The retailer has added a mass of new SKUs to its meal deals, including four limited-edition wraps and sandwiches, three 'Beautifully Balanced' salads, and two new sushi SKUs.
Notable branded entrants include Zinda Foods' chicken makhani 'air wrap', made with no palm oil, transfats or preservatives, Pots & Co chocolate & salted caramel pots, and Grenade Energy drinks.
A Tesco spokeswoman confirmed the retailer had "added lots of exciting new products to our meal deal range, including wraps, salads and sushi – perfect for the summer".
The move comes as meal deals have been badly hit by the coronavirus crisis as Brits work from home more often. The value of products bought on lunch occasions in meal deals and multibuys was just £64.8m over the 12 weeks to 14 June, exclusive Kantar data reveals, that figure dropping to £48.9m in just the mults (excluding cafés and forecourts).
That's a fall from £167.6m and £104.9m respectively over the same period last year [12 w/e to 16 June 2019] – a 61% decrease in total stores and a 53.3% decrease in the mults alone.
Meanwhile, Assosia data shows the number of products included in meal deals in Tesco, Asda, Sainsbury's and Waitrose, which fell steadily throughout lockdown, is higher now than it was pre-lockdown: there were 479 products included in meal deals the week of 2 March 2020, compared with 522 the week of 20 July.
At the peak of the pandemic (w/c 11 May), the number of meal deal items in Tesco had fallen to 315, having stood at 350 in early March. However it is now expanding quickly: as of the w/c 20 July, it now offers 393 products eligible for meal deals.