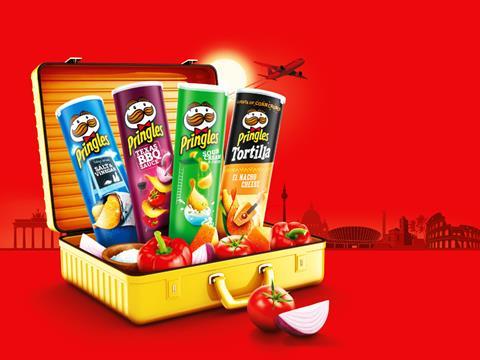 Kellogg's recorded a £50m plunge in UK sales in its most recent financial year as its Pringles lost sales to add to the structural decline of its cereals.
Annual sales for Kellogg's UK sales and marketing arm dropped 6.5% from £773.4m to £723.5m in the year to 30 December 2017 on top of a £22m decline in the previous financial year.
The ongoing decline of traditional breakfast cereals in the UK continued to eat into revenues, though Kellogg's said cereal sales had improved in the second half of the year with market share gains as a result of increased advertising behind core brands.
However, sales were also hit by a decline in Pringles volumes as it tried to push through price increases.
The accounts say weaker sales of Pringles were due to "prolonged negotiations with customers as we sought to price behind our food and packaging upgrades".
The Grocer's 2017 Top Products Survey noted that Pringles lost £29.1m of sales – or 14.6% - as extensions, such as its 2015 launch Tortillas, were axed [52 weeks to 9 September 2017].
The same survey found that although Kellogg's modestly grew a number of its core breakfast brands such as Crunchy Nut and Corn Flakes, others such as Special K, All-Brand and Fruit 'n' Fibre experience double-digit declines as £14.4m of sales were lost in the category.
Pre-tax profits declined by 19% from £22m to £17.4m, largely as a result of input cost pressures and foreign currency losses arising from the weakening of the US dollar.
The accounts stated: "The outlook for 2018 is expected to remain challenging given the tough economic climate, retail environment and the intense promotional pressure within out categories."
However, Kellogg's said it expected an "improvement from past years' performance" this year as it invests behind its core brands.
"With the pipeline of commercial initiatives, product innovation and the Project K global growth and efficiency programme, the business will be well positioned for strong future growth."