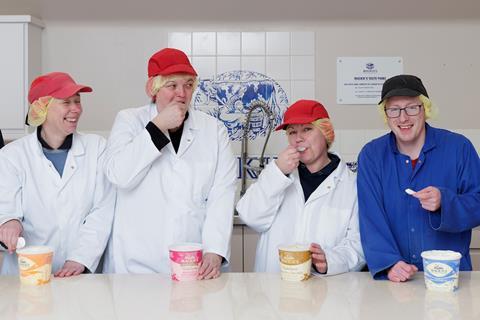 Mackie's of Scotland has hailed record turnover, hitting £16.7m for the financial year ending May 2019.
With the Aberdeen snacking brand's revenue up 20% on the previous 12 months, a key driver was sales of its chocolate, which grew 63% following reformulation. The confectionery experienced growth in Scotland and "surging orders in key export markets boosted further by the introduction of a smaller 35g bar across its four flavours" Mackie's said.
The supplier's ice cream also added value, with its one-litre Traditional tub remaining Scotland's top-selling ice cream product, claimed the family-run business.
It experienced a 60% spike in operating profit to £2.1m, while revenue from exports increased by 72%, with the US and Far East markets "developing at pace". Overall costs increased by 17%, and headcount grew by seven to 83.
While sales had benefited from 2018's heatwave, the latest set of results "was no fluke" said Mackie's MD Mac Mackie. "We've worked over the years to grow, cut costs and diversify the business across products and markets. Our dedicated and immensely loyal team is central to everything good that we do – and we were able to provide all staff with a 5% bonus."
Mackie's – currently worth almost £13m across UK grocery [Nielsen 52 w/e 7 September 2019] – is now targeting expansion in London and the south east, having won a listing in the autumn for Marks & Spencer's English stores.
Another key focus for the current year will be the creation of a £4.5m, environmentally friendly refrigeration system. It is expected to reduce the brand's energy use and CO2 emissions by 80%.
It follows a £300k investment in the winter in new machinery and extra factory space to enable Mackie's to produce its own lids for its two-litre ice cream tubs. The packaging was previously shipped from Sweden.
The supplier was "bidding to become 100% self-sufficient in renewable energy by 2020 alongside our aim to have the most efficient factory in the UK for the production of quality dairy ice cream" Mackie said.