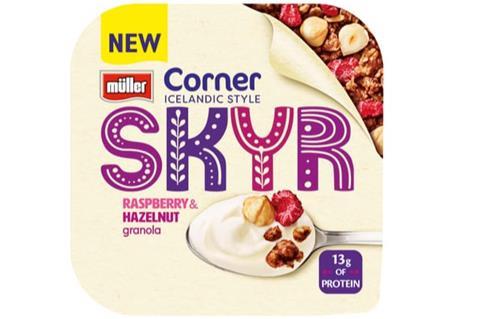 While an improvement on the previous year's losses of just over £100m, it still made a loss of £76.1m before discretionary division among members for the year to 31 December 2019, and an operating loss of £73.1m.
Total group revenues were also down, dropping by 1.7% to just under £1.9bn, according to Müller's accounts, lodged at Companies House.
It said volumes within its Müller Yogurt & Desserts division had "remained relatively stable in a declining market", with the group continuing to invest in its yoghurt business.
The Corner brand and its total split pots business, including the Bliss brand, posted volume share growth for a second year in a row. However, Müllerlight, which saw sales fall by 18.3% last year [The Grocer Top Products 2019/Nielsen] had a "more challenging year".
The Müller Milk & Ingredients business, which has been the main contributor to a £200m-plus loss over the previous two years, saw the biggest changes.
The Darwin cost and margin improvement plan, launched in February 2019 in a bid to save the business £100m over the next two years, "made significant progress" during the accounting period, the report said.
It highlighted the success of a series of actions taken across the business "to reorganise operations into a more efficient structure" – including the closure of its Foston Dairy last year and the creation of a new division called MMI Distribution with sister company Culina – as key drivers.
The report also echoed MMI CEO Jon Jenkins' comments in an interview in The Grocer's Dairymen supplement last month, by stressing it expected Darwin would "continue with the benefits", shown in 2019 to deliver "significant advances" for MMI's balance sheet during the 2020 financial year.