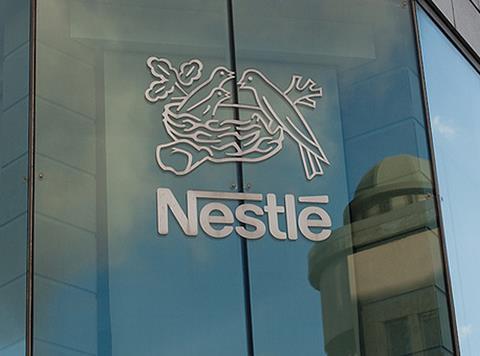 Top story
Nestlé (NESN) has forecast an improvement in sales growth over the coming years after posting a solid increase in revenues and profits in 2019.
The world's largest food group posted organic growth of 3.5% last year, made up of real internal growth of 2.9% and pricing of 0.6%.
Total reported sales increased by 1.2% to CHF92.6bn as its M&A activity had a negative impact of 0.8% and foreign exchange reduced sales by 1.5%.
Year-on-year organic growth was supported by "strong" growth in the United States and Brazil, as well as improved momentum in Western Europe. Its Zone AOA saw solid growth despite softness in some categories in China and Pakistan.
Organic growth accelerated to 2.6% in developed markets and remained largely unchanged in emerging markets at 4.7%.
All product categories saw positive organic growth, with the largest contribution coming from Purina PetCare and its premium brands Purina Pro Plan and Purina ONE.
Coffee had good momentum, helped by strong demand for Starbucks products, which by now have been rolled out in more than 40 countries. In total, Starbucks products generated more than CHF300m of incremental sales in 2019.
Vegetarian and plant-based food products, including the Sweet Earth Awesome Burger and the Garden Gourmet Incredible Burger, saw strong double-digit organic growth, reaching sales of close to CHF200m.
However, its water division was subdued, reflecting pricing pressure in the mainstream segment and soft demand in Europe.
This growth enabled Nestlé to hit its 2020 profitability target range one year ahead of plan.
Its underlying trading operating profit margin increased by 60 basis points to 17.6%, while underlying earnings per share increased by 11.1% in constant currency and by 9.8% on a reported basis to CHF 4.41.
The trading operating profit margin, however, decreased by 30 basis points to 14.8% due to increased restructuring and related expenses.
CEO Mark Schneider commented: "We saw strong progress in 2019, with key operating and financial metrics improving significantly for the second consecutive year. Organic growth accelerated, fueled by strong momentum in the United States and Purina PetCare globally. Profitability improved again and reached our guided range one year ahead of plan. Cash flow was strong, while underlying earnings per share and returns to shareholders reached record levels. In 2020, we expect continued organic sales growth improvement as we take further steps to decisively address underperforming businesses.
"In 2019, we made significant progress in our portfolio transformation. We did what we said we would do and more. We are not done yet. We will respond to rapid changes in the industry and fast-evolving consumer preferences to position our portfolio for higher growth.
"Nestlé will continue to focus on fast innovation. The launch of our premium Starbucks products, for example, has been a great success. We are very pleased with the speed of the product rollout and the positive response by consumers. The company is fully embracing the need for speed, as the rapid expansion of our new plant-based food and beverage offerings has shown. We are getting to market faster with must-have products."
Nestlé said in 2020 it expects a continued increase in organic sales growth, with further acceleration in 2021/2022 towards sustainable mid single-digit growth. Underlying trading operating profit margin will also show continued improvement
However, it said warned is too early to quantify the financial impact of the coronavirus outbreak at this time.
Schneider said responding to the virus "has required extraordinary effort from our team in China".
"Our immediate thoughts are with the people directly impacted by this global health emergency. We stand in solidarity with the Chinese people and are working hard to ensure our nutritious food and beverages continue to be widely available, particularly those for the most vulnerable, the youngest and the oldest in society.
"The Greater China region is our second largest market, representing about 8% of global sales. It is too early to quantify the financial impact of this outbreak at the present time."
Morning update
Coca Cola European Partners (CCEP) has delivered another year of "solid growth" with revenues rising 4.5%.
The business generated sales of €12.01bn in 2019, as volumes rose 1% to 2.52bn unit cases.
Operating profits increased 6%, when adjusted for currency movements, to €1.54bn while net profits also rose 6% to €1.09bn.
In the UK revenues rose 2% to €2.41bn with volume growth supported by solid gains in Coca Cola Zero, Fanta and Monster.
Growth was reported in all markets, with France revenues increasing 4.5%, Germany up 4%, the Iberia region rising 4.5% and Northern Europe 1.5%.
CEO Damian Gammell said: "2019 saw our business deliver another solid full-year demonstrating our continued focus on driving profitable revenue growth through managing price and mix across our portfolio, delivering solid in-market execution and a step up in innovation, collectively reflected in market value share gains across all our geographies.
"Looking ahead to 2020 and beyond, our journey continues to be built on three pillars: great people, great service and great beverages. We continue to build our core business alongside scaling up recent innovations and enhancing our commercial capabilities, by investing to better serve our customers and further improve in-market execution."
For 2020, the business expects low-single digit revenue growth and mid-single digit operating profit growth.
Coca-Cola HBC (CCH) has reported "another year of strong growth" recording its highest ever volume and EBIT.
For 2019, the FTSE 100 Coca Cola bottler reported FX neutral revenue growth of 4.4% to €7.02bn boosted by a strong fourth quarter, with sales up 7.4%, partially offset by the impact of poor weather in the second and third quarters.
Growth was achieved in all market segments, with Established markets up 1.3% driven by an ongoing strong performance in Italy, Developing markets up 4.2% and emerging markets rising 7.1% on strong gains in Nigeria.
Volumes rose 3.3% to 2.26bn cases driven by increased demand in low/no sugar which grew 26.7% in the year. Sparkling volumes were up 3.5% while Adult Sparkling rose 7.1%.
EBIT rose 12% to €715.3m while net profits increased 9% to €487.5m.
"2019 was another year of strong growth with the business recording its highest ever volume and comparable EBIT," CEO Zoran Bogdanovic said.
"We drove growth across all three market segments as well as in our three largest markets of Russia, Italy and Nigeria. Our core sparkling category continues to grow, supported by momentum in low- and no-sugar variants and we continue to gain or maintain share in the majority of our markets.
"We enter 2020 with considerable momentum and exciting plans that include the roll-out of Costa Coffee in at least 10 of our markets. We are confident that we are well on track to deliver our 2020 commitments and to make solid progress on our 2025 growth agenda."
The business said it was "well-advanced" in its preparations to launch of Costa Coffee products in at least 10 countries starting in Q2 this year. It then expects to expand the range into all of its markets over the following three years.
French spirits group Pernod Ricard has posted organic growth of 2.7% in its first half and reported growth of 5.6% as favourable currency movements helped boost its top line.
The group said it had "delivered solid results in a challenging environment, with broad-based growth".
It reported widespread growth across Regions, with robust performance in the USA, India and China, the latter of which was helped by the earlier Chinese New Year.
USA was up 4%, with good growth driven by Whiskies and Specialty brands, China was up 11% despite tough comparatives and India grew by 5% despite the "volatile context".
Its key strategic international brands performed well, in particular Jameson, Martell, The Glenlivet, Malibu, Ballantine's, Royal Salute and Beefeater, with overall pricing across the portfolio up 2%.
Overall Q2 Sales were €2,991m, with 3.8% organic growth (6.9% reported), following a softer first quarter.
Pernod said its focus on operational excellence and resource allocation, drove strong organic improvement in PRO margin +51bps.
Gross margins showed a slight decline of 15bps, following particularly strong first half in 2019 ( when margins rose by 71bps). The margin performance was driven by the positive impact of earlier Chinese New Year, but negated by the negative mix of India and cost of goods headwinds.
CEO and chairman Alexandre Ricard saidL "H1 FY20 demonstrated solid growth and resilience of our business model. Our 3 year-plan Transform& Accelerate is driving success, as evidenced by the diversification of the sources of growth in terms of geographic footprint and categories, continued strong pricing and ultimately the improvement in operating leverage."
"Looking to H2 FY20, the environment remains particularly uncertain from a geopolitical standpoint, with the additional pressure related to the COVID-19 outbreak. While we cannot currently predict the duration and extent of the impact, we remain confident in our strategy.
"Our first priority is to ensure the safety and wellbeing of our employees and business partners. I would like to praise the exemplary behaviour of our teams during this difficult time. We fully support their efforts, as well as those of the Chinese people and authorities to contain the epidemic."
On the markets this morning, the FTSE 100 is down 0.9% to 7,466.8pts.
Nestlé is down 1.9% to CHF105.02, Coca Cola HBC is up 4.4% to 2,905p and Pernod Ricard is up 2.5% to €164.60.
There are few other risers in the FTSE today outside Coca Cola HBC.
Early fallers include Ocado (OCDO), down 3.8% to 1,163p, Premier Foods (PFD), down 2.8% to 36.2p and Hilton Food Group (HFG), down 2.1% to 1,042p.
Yesterday in the City
The FTSE 100 index continued to recover from the falls driven by the coronavirus crisis, ending yesterday up 35 points to 7,534p.
Heineken (HEIA) edged up 0.5% to 103.40 after posting a year of solid revenue growth as sales volumes and prices both rose.
Ahold Delhaize (AH) ended the day up 2% to €23.00 after it reported "strong" earnings growth in the fourth quarter driven by increased sales.