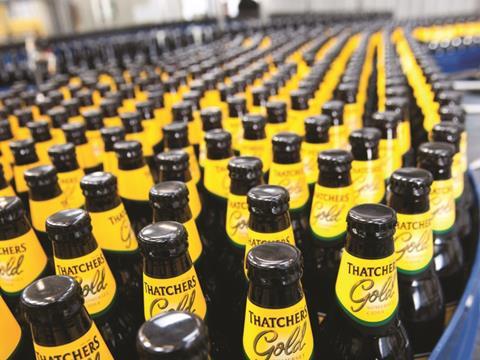 Thatchers has continued to outperform a stagnating cider market for a sixth successive year, although the rate of growth has slowed at the brand.
Sales at the cider maker increased 9% to £65.8m in the year to 31 August 2015, compared with growth of 16% in the previous 12 months.
Volumes continued to grow – although the figure is not included in the accounts – thanks to the increasing distribution and popularity of its range, with the flagship Gold brand a particular success. MD Martin Thatcher said Gold and the rebranded cloudy cider brand Thatchers Haze were also making "great inroads" in the supermarkets.
Pre-tax profits also climbed 8.1% to £6.2m despite Thatchers investing another £7m in the production facility in the year, including its kegging line and storage capability, according to accounts just filed at Companies House.
"Investing back into the business is crucial for the continued success of the company", MD Martin Thatcher said. "It encourages innovation and fresh thinking, something we are exceptionally proud of."
During 2015, the business launched two new ciders, including Thatchers Haze, which Thatcher added was rapidly gaining national popularity within the growing cloudy cider sector. The Gold brand was also supported in the year by a new TV commercial, filmed on location at the Somerset headquarters.
"We are delighted with the performance of Thatchers Gold and Thatchers Haze which are both making great inroads into the off-trade," Thatcher said.
Thatchers' range of ciders outperformed a declining market for the sixth year in a row, with sales and profitability growing in line with expectations, the accounts added.
Cider and perry sales slumped 2.8% to £1.04bn in 2015 on volumes down 3.2% [52w/e 10 October 2015].
"The directors believe the group is well positioned to continue to grow on all measures," the business review in the accounts said.
Last month, the business renewed its agreement to be the official cider supplier of Glastonbury Festival for another five years. Its Gold and Thatchers Haze brands will be available at bars across the festival site.