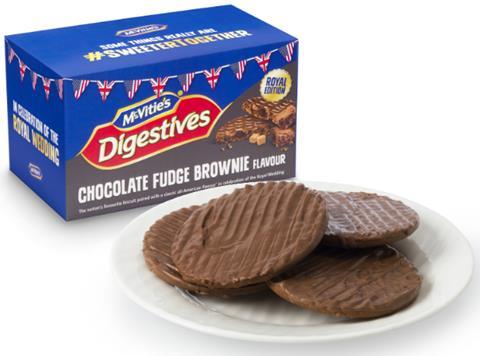 UK biscuits leader United Biscuits sales fell 5.4% last year as consumers turned away from branded favourites.
New accounts filed at Companies House show Pladis-owned United Biscuits UK reported sales down from £875m in 2017 to £828m last year.
The McVitie's and Jacob's owner's market share in branded biscuits dropped from 25% to 23.2% in 2018.
UB said new launches, including the release of UK Godiva branded products as well as NPD such as its a range of Jacob's and McVitie's Thins "performed well".
But a new report from The Grocer shows sales of McVitie's Chocolate Digestives have fallen £16.2m to £108.2m [Nielsen 52 w/e 10 August] as shoppers became increasingly price-conscious.
Fewer shoppers had bought the brand at full price, Nielsen revealed, as they held out for promotions.
McVities also faced strong competition from cheaper retailer lines. Sales of own label chocolate-covered biscuits rose 2.1% to £137.5m, found Kantar data for the year ending 16 June. By contrast, branded chocolate-covered biscuits – on average, £1.27 more expensive per kg – fell 1.7% to £289.5m.
A Pladis spokesman commented: "Our sales were impacted by last year's extended hot summer, the sale of our Middle East and North Africa Exports business in 2017 and a reduction in promotional activity. Like many businesses in the UK, we are facing a challenging retail backdrop. However our sales have performed well in the first half of 2019 – aided by the launch of new variants under the UK's best-selling biscuit brand McVitie's (such as Jaffa Cake Nibbles) as well as our successful McVitie's 'Let's Talk' campaign.
"And we have high expectations for our new Team GB sponsorship initiatives, launching in-store now, to drive interest and sales in the run up to next year's Olympic Games. All signs are that snacking will also remain a particular area of growth for us, with our successful Flipz brand continuing to go from strength to strength."
"Finally, as a £2.95bn category that continues to grow +3% in the UK, biscuits remain a must-stock product for retailers, so it's important that we and our customers continue to keep this key opportunity front of mind, at the same time as generating new sales opportunities through market-leading NPD."
UB's accounts show it posted pre-tax profits of £58.1m compared to £191.4m in 2017 after the previous year's bottom line figure was inflated by the £118.8m gain from the sale of its MENA business.
Operating profit before restructuring and non-underlying items fell 9.4% to £90.4m.
During 2018, the company continued to focus on the implementation of cost-reduction initiatives, with restructuring and associated costs totally £17.2m in the year compared to £13.2m in the previous period.
UB's Turkish owner Yildiz has struggled to grow sales in the core UK business since buying the biscuit company for £2bn in 2014.
In its first year under Yildiz ownership UB generated sales of £930m, which have steadily declined since that date.
Last month, Pladis appointed industry veteran David Murray as MD for the UK & Ireland, replacing Nick Bunker who left the business after just two years in the role.
The wider Pladis group appointed A Salman Amin as global CEO in January, replacing interim chief Jim Zaza.