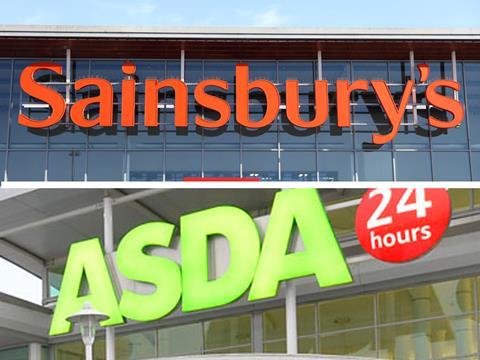 In a volatile and fiercely competitive retail landscape, unexpected alliances, collaborations and mergers are the new norm and Sainsbury's proposed deal with Asda is the latest exciting move. Sainsbury's says it intends to retain the two retail brands and argues they serve different geographical and demographic segments of consumers.
The initial announcement may have grabbed the interest of the business pages but appeared of less interest to consumers. Searches for 'Sainsbury's' were up 25% week on week but only 8% for 'Asda'. Compared with the seasonal jumps we see in queries for the two brands, this barely registers - Sainsbury's, for example, enjoys 50% more brand searches than this at Christmas, while Asda sees a similar a jump of 54%.
Sainsbury's will be looking to cut costs and increase efficiency across the enlarged business. Geographic search data allows us to map Sainsbury's loyalty strongholds and Asda's bulwarks.
London is the only region where the volume of searches for Sainsburys is greater [Q1 data - Google Internal Data]. In fact, more than half (56%) of Sainsbury's searches come from the London, Midlands and Meridian TV regions, whereas the eight other regions contribute less than 5% of the brand's searches. Asda has a more even spread of queries, with the main contributors to search volume being the Midlands, London, the North West and Yorkshire.
Looking at demographics, there is an assumption that Sainsbury's has more upmarket and value appeal and Asda majors on low price. Data on co-searches with rival supermarkets shows the probability of Sainsbury's being co-searched with Waitrose is 11%, Tesco 9% and Asda 8.8%. Conversely, the probability of Asda being co-searched with Tesco is 19%, Morrisons 12% and Sainsbury's 8.8%. This gives a pretty good indication of where the brands sit in terms of consumer perception.
Asda's appeal to the cost-conscious is borne out. The brand is co-searched with 'deals' and 'offers' 73% and 44% respectively more than Sainsbury's. The latter's appeal to those looking for value is evident in that Sainsburys is co-searched with 'premium' more than Asda.
The merged company will need to deliver a superlative customer experience to win against competitors. Technology can be used to make sure customers move between online and offline brand interactions in a seamless way, and we see both brands continuing to innovate. For instance, Sainsbury's has carried out micro-targeting of relevant promotions to shoppers in-store using beacons. It's also developed the Smartshop app that allows customers to make lists, scan and pay at card-only checkouts and is trialling another app that allows self-scanning of its 'On The Go' meal deal and bypass checkout completely.
Asda is no slouch either and has been pushing ahead on the exciting new frontier of voice assistance. It has teamed up with Google to connect its online groceries service to the millions of Google Assistant-enabled smartphones and other devices to perform a variety of functions using voice.
However, it's still essential to get the basics right for customers. Research shows that 53% of visits are abandoned if a mobile site takes three seconds or more to load and that percentage quickly increases as page load times increase. The tool Test My Site shows that www.asda.co.uk loads in four seconds and is rated good, while www.sainsburys.co.uk takes five seconds to load and receives a rating of 'fair'. There is room for improvement, but this is a good position to be in.
Two strong brands offering a seamless grocery shopping experience will delight customers and shareholders alike. This is the goal the 'new' Sainsbury's should aim for.
Harry Walker is industry head, grocery retail, at Google