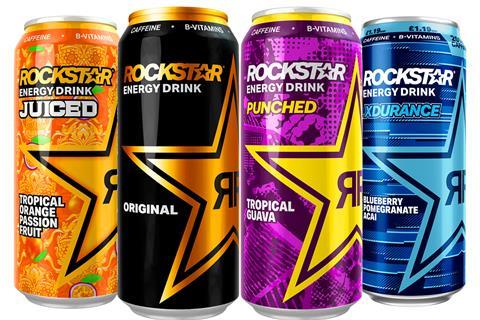 Britvic is reformulating its core range of Rockstar Energy drinks to make them HFSS-compliant.
The energy drinks giant has launched new recipes for its Original, Punched Tropical Guava, XDurance Blueberry Pomegranate Acai, Juiced El Mango, Juiced Tropical Punch and Juiced Tropical Orange Passion Fruit flavours.
They all contain less than 4.5g sugar per 100ml, and will begin rolling out from March, with the brand hoping to extend "the appeal of the stimulants category to health-consious shoppers".
Since PepsiCo – for which Britvic bottles in the UK – acquired Rockstar in 2020, it had "been executing an ambitious plan for the brand", said Britvic at-home commercial director Ben Parker.
The move "aims to put us ahead of the category by introducing HFSS-compliant liquids more than six months ahead of the proposed legislative changes", he added.
"Adapting our bestselling core range in this way allows us to continue supporting retailers and meeting consumer demand for lower-sugar versions of the drinks they know and love."
It makes Rockstar the latest in a series of brands across the spectrum of fmcg revamping their products ahead of the crackdown on HFSS goods.
Ahead of the changes both Tesco and Sainsbury's have been trialling HFSS-compliant store layouts over recent weeks.