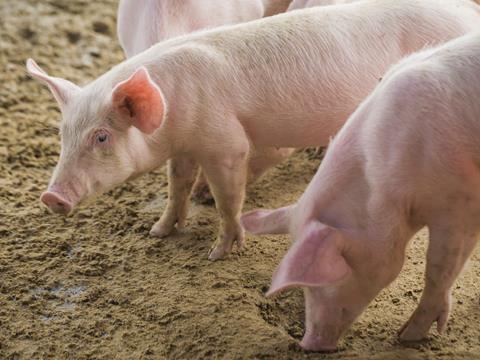 The Co-op has announced a £19m support package for its pork supply chain, in a move it said would ensure struggling pig farmers were paid above the cost of production on an ongoing basis.
The retailer said its new pig pricing commitment – the duration of which was open-ended – would start at the end of May, and would see it pay well above AHDB's standard pig price (SPP). That stood at 172.76p/kg on 14 March, and was likely to be "way below the cost of production for many", suggested the levy board.
It meant The Co-Op, with a market share of 6%, had "outstripped" the support offered to the beleaguered pig sector by the big four retailers combined, who had a total market share of almost 70%, it claimed.
The investment represents the latest move by The Co-op to support the pig sector and follows a switch to 100% British fresh pork sourcing in 2017.
And it follows a raft of similar commitments from the major multiples in recent weeks – most recently through Tesco, which announced a £6.6m investment in farmgate pricing earlier this week, and Waitrose, which announced a £16m cash injection in its pork supply chain earlier this month.
But despite these moves, The Co-Op said its rivals could do much more to support the sector, given the ruinous situation large parts of the pig sector found itself in, due to the combination of soaring farm costs and an ongoing backlog of animals on farms.
With about 60% of the UK's pork imported, it said more supermarkets should follow its lead and "go the whole hog" by shifting their Sourcing policies to UK-produced pork.
AHDB's latest Pork Watch country of origin survey for March showed the total percentage of British pork facings in the eleven largest supermarkets stood at 81%, up from 79% in March 2021. British bacon facings were also up from 55% to 57% over the same period.
However, some individual retailers appear to have more work to do, with Asda showing a fall from 44% to 36% for its bacon, while the percentage of British ham it sold fell from 40% to 26%. Iceland's British bacon facings fell from 11% of its offering in March 2021 to zero in March 2022, while Lidl also saw a big drop in British bacon availability, from 47% to 29%.
"Some of the support for the sector is too little but it's not too late for supermarkets to do their bit to help more British farmers," said The Co-op's co-MD Matt Hood.
"Switching to UK produced pork is the strongest commitment retailers can give to UK farmers at a time when the sector is experiencing unprecedented spiralling costs," he added.
"Pig farmers have been facing historically high feed costs even before Christmas, which has now been exacerbated by the conflict in Ukraine. As a result, many UK farmers are suffering significant losses, and some tragically have been forced to close their farms."
The Co-op's new pricing model would allow it to "go even further" in extending its long-standing support of the sector, Hood added.
The announcement was welcomed by National Pig Association chair Rob Mutimer, who described the retailer as "a loyal supporter of British pig producers".
Most of the big retailers had now acted in some way to inject more money into the supply chain. "But while the price increases are very welcome, with wheat having reached £350/tonne this week, they are still not matching soaring input costs," he added.
"The reality is that our beleaguered pig producers remain under huge pressure and, in many cases, are battling just to survive from week to week. We still need to see more from some retailers. As our industry fights for survival, we urge all the big supermarket chains to always prioritise British pork where they can."