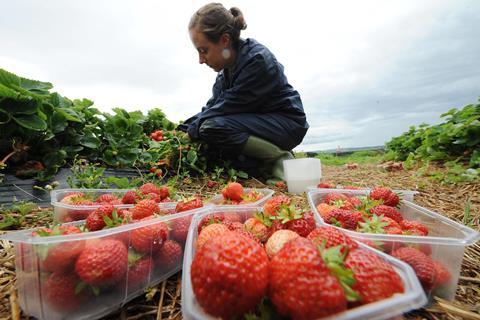 More than 600 workers have flown into the UK since last weekend and are currently being quarantined on farms

Major growers have launched recruitment drives for domestic workers this week
UK growers could be facing a May seasonal worker "crunch point" if lockdown measures remain in place, a leading labour provider has warned.
CEO of Concordia Stephanie Maurel said soft fruit crops such as strawberries could be under threat despite a surge in interest from UK workers, with 15,000 roles needing filling from the beginning of May.
As The Grocer reported on Tuesday, labour providers have said 8,000 British workers have applied for seasonal agricultural roles since last week, with many of the applications coming from London.
But according to Maurel, the next 10 days could be critical as countries such as Ukraine decide whether to continue existing lockdowns, while more stringent measures in the UK could be "devastating" for growers.
"We can probably fumble our way through half of April but we will not survive May if we close our borders," she said.
"The British response has been amazing, it's whether or not farms are in the right place for those workers. Some don't have farms on their doorstep or a way of getting to them, others have commitments, for example childcare."
Following reports in The Grocer last week that firms were looking to fly migrant labour into the UK on specially chartered planes, Maurel added more than 600 workers had made it onto such flights since last weekend, with the last one landing on Wednesday (25 March). These workers are currently being quarantined on farms.
However, getting more migrants into the UK could be an issue, according to one senior industry source, as "the countries where these people originate are all facing their own production problems".
The source said Chancellor Rishi Sunak's pledge to fund 80% of people's wages could mean British workers are "less likely" to take up agricultural roles.
They added, "to be fair those people were always going to migrate first to retail but people I'm talking to are concerned that workers will lack the motivation to work".
It comes as major growers have launched recruitment drives for domestic workers this week under the 'Feed our nation' campaign.
Angus Soft Fruits has said it has 3,000 roles which need filling, whilst G's is advertising for 2,500.
The 19 farms covered by Angus Growers said they're anticipating a shortfall of 3,200 workers – almost 80% of their workforce – due to travel restrictions.
The berry growers said their farms are following strict protocols to avoid spreading coronavirus, including splitting workforces into teams and keeping these teams isolated from one another.
"Thankfully, the risk of spread among farm workers is relatively low due to the open-air nature of harvesting activity; farms, unlike offices, are large places where people can spread out," said Angus Grower and NFU Scotland horticulture chair James Porter.
"We want to reassure the public that if any workers do develop symptoms and need to self-isolate, farm accommodation is in 'caravan park' style permanent units sleeping three or four persons, which means anyone suffering symptoms can isolate easily in a dedicated unit."
Meanwhile, the NFU is working on a national labour swap scheme for seasonal workers. A spokesman said the scheme was in "very early development", however, it is understood it would be aimed at furloughed employees whose wages have been subsidised by the government.