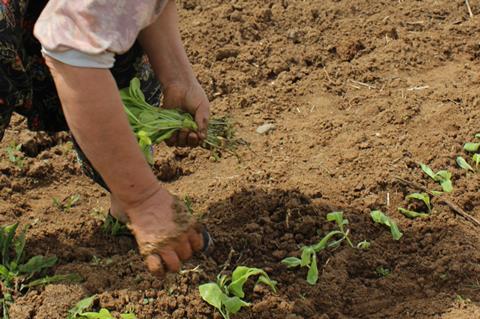 Hops Labour Solutions said it had received 8,000 applications from Brits over the past week

Many of the responses came from self-employed people or those who had been made redundant as a result of coronavirus
Recruiters operating in the fresh produce sector have seen thousands of job applications from British candidates for seasonal agricultural roles after coronavirus has took its toll on other sectors.
Hops Labour Solutions, a specialist agricultural labour provider, said it had received 8,000 applications from Brits over the past week for shorter-term opportunities.
Typically, UK growers need between 70,000 and 80,000 seasonal workers every year, with the vast majority of jobs taken up by migrant labourers.
The jobs on offer are mostly fruit & vegetable picking roles, with some packhouse and quality control work also available.
"The response we've had was unexpected," said Sarah Boparan, operations director at Hops.
"The types of responses we've been getting are from people directly impacted by coronavirus: many self-employed people and those whose jobs have been restricted or who've been made redundant."
The company, which is pooling its resources with competing providers Concordia and Fruitful, said applicants had come from all over the country, with a particular concentration in London.
Many of the applications had come in since last Wednesday (17 March) when Hops' owner, the National Federation of Young Farmers' Clubs, launched an initiative calling on its members to help out farmers as the coronavirus pandemic threatened to stop labour entering the UK.
On Monday, Concordia CEO Stephanie Maurel said she was already processing 129 video interviews, with a view to offering jobs out by the middle of the week.
Following last night's announcement from Boris Johnson that the UK would be entering a more stringent lockdown – with most shops and hospitality outlets closing – the number of applicants could yet rise further.
It starkly contrasts with recent times, in which domestic workers have tended not to work in the agricultural sector.
According to NFU figures for 2019, 99.8% of the of jobs in the horticulture sector were taken up by migrant labourers, predominantly from the EU. The remaining 0.2% of roles were filled by workers from the UK.
But despite the dramatic uptick in domestic interest in these roles, Boparan sounded a note of caution and called on the government to provide more certainty for growers.
"This is a short-term solution for potentially a short-term problem. It's not the long-term solution," she added.
"We still very much need that clarity for our growers, they need to know they've got labour coming in. They would be over the moon if some of the applicants we have now stay in these jobs and make it a long-term career. But the government needs to factor in support for growers going beyond coronavirus."
The government recently expanded the Seasonal Agricultural Workers Scheme pilot – a trial that has allowed seasonal workers to come in from non-EU states without visa restrictions – from 2,500 workers to 10,000. Last week, the government denoted those involved in food production as "key workers".
However, industry leaders have called on Defra and the Home Office to go further with the post-Brexit immigration system, amid fears of a shortfall of workers when the new rules come into force next January.
Last year, growers reported they had had to leave crops rotting in the ground due to Brexit-related seasonal labour shortages.