Hit French food brand C'est qui le Patron – which pays farmers a premium for their product through a higher retail price – is gearing up to launch its first product in the UK later this year.
C'est qui le Patron, which translates to Who's the Boss in English, was established in 2016 in the wake of a spike in suicides by financially crippled French farmers.
The brand works by giving consumers a say – through a questionnaire – in the type of product sold, how it is produced and the recommended price it is sold at, with the intention of creating a fairly traded product that delivers a fair margin throughout its supply chain.
The questionnaire focuses on criteria such as method of production, farmer remuneration, the type of feed used, animal welfare and packaging. An optimum retail price above the cost of production is then calculated.
The initiative has become a success story in France with a range of more than 30 lines now available in more than 12,000 stores owned by France's biggest retailers, including Carrefour, E.Leclerc, Intermarche and Monoprix – and more than 150 million products sold since 2016.
It was now preparing to launch its first UK product, said the co-founder of CQLP's British arm David Poussier, with the range marketed as The Consumer Brand.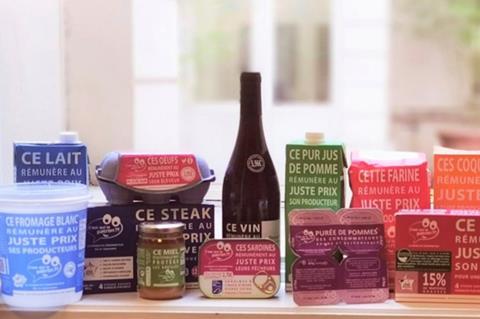 The brand will publish its first questionnaire for a fresh eggs SKU at the end of January, said Poussier, who has worked in a variety of senior global roles for retail giant Metro/Makro, including as CEO of its Peruvian businesses between 2010 to 2014 and its Brazilian operation in 2015.
After three months, the results of the questionnaire will be collated to form the criteria behind a new egg brand for the UK retail market.
"We are already working with several farms and a processor, and we will finalise which supplier we use once the questionnaire will be completed," Poussier added.
"The processor (which pays a 5% fee to The Consumer Brand to use its intellectual property) will have to accept allowing us to publish the invoice price they pay to farmers on our website as a condition of doing business," he added.
While the brand could not legally oblige retailers to accept the retail price it proposed, Poussier said retailers would be encouraged to adhere to the price printed on packs.
The brand – which echoes the premium paid by Morrisons to farmers through its For Farmers range – is hoping to have its first product on sale by early summer, Poussier said.
"We believe UK retailers will accept this model as the French did. We've discovered from the French initiative that consumers want more of a say in how their food is sourced, and where their money is going."