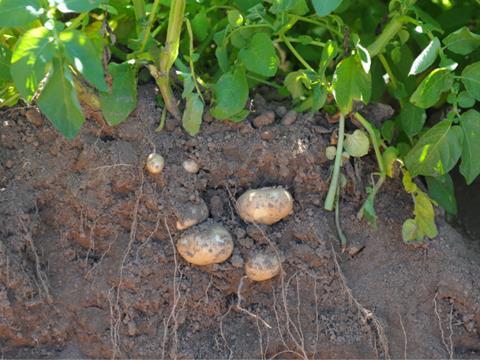 Potato growers have added to warnings of impending produce shortages as a poor growing season is set to see yields fall significantly.

With less than two months before the potato harvest is set to get underway, the AHDB said planted areas of potatoes had fallen 3% on last year due to difficulty drilling during the spring's wet weather conditions.

The decreased acreage alone is set to see in the region of 180,000 tonnes fewer potatoes on the market compared to 2017, while further difficulties arising from the summer drought have left growers fearing that the size and quality of the remaining crop will drive yields down even further.

The UK is more than 95% self-sufficient in fresh potatoes and around 50% self-sufficient in processed potatoes. Only half of the UK crop has access to irrigation, which mitigated the impact of what the Environment Agency confirmed was the driest June since 1925, while the remainder relied on rainwater.

Comparable weather conditions across Europe left growers facing similar shortages on the continent, leaving imports in jeopardy.
"The rain experienced across most of the country last week offered some light relief," said AHDB strategy director for potatoes Rob Clayton. "While it alleviated some of the immediate stress, it wasn't enough to recharge water sources.

"We're now working with growers and suppliers to amend specifications and knock as much waste out of the supply chain as possible to keep shelves stocked. There is still some growing season to go, so it is impossible to accurately predict how far down yields will be."

It comes as the Environment Agency and Scottish Environment Protection Agency announced they would allow farmers to trade water allowances on a short-term basis, fast-tracking applications to do so.

"Farmers are facing considerable pressures in responding to drought conditions and we want to support them by allowing them to flex their abstraction licences in the most serious cases to safeguard food production and animal welfare," said Environment Agency head of water resources Paul Hickey.