As Brexit and climate change threatens UK food imports, self-sufficiency is down. Could new attitudes and tech change food policy?
It might be hard to believe on a cold, wet February day, but the UK has a pretty good climate for growing food – it's temperate, benign and rarely extreme.
Yet as a country, we're growing less and less. Self-sufficiency levels in fruit & veg have steadily fallen since the mid-1980s, when we produced 78% of our food needs, according to the NFU.
Today, that figure sits at 64%. The UK is just 18% self-sufficient in fruit and 55% in fresh veg – the latter declining 16% in the past two decades.
Indeed, our production capacity is so small that Food Foundation analysis shows if everyone in the UK tried to eat their 5 a day from our current yield, we would fall short by 2.1 million tonnes annually.
Until now, imports have easily made up any shortfall. But as Brexit and climate change threaten to wreak havoc on the norm, experts are warning that greater self-sufficiency will be crucial.
So how have we got to this point? What are the benefits of greater self-sufficiency? And how can we go about achieving it?
The steady demise of domestic production has been driven by long-held attitudes in government and business, says food policy expert Professor Tim Lang.
Westminster hasn't taken domestic food production seriously since the Second World War, he argues. For proof, he cites the Food Matters Strategy he wrote for the Gordon Brown administration. It was ripped up by the coalition mere months after its completion.
"Persuading consumers to pay more for their food is very difficult. And we have some of the cheapest food in Europe"
"It included commitments to sustainable diets and increasing food supply. Here we are 11 years later having to reinvent the wheel, when we could've been further down the line," Lang says.
He's referring to the current government's own National Food Strategy, set for completion in 2021, which will cover many of the issues Lang worked on a decade ago. The strategy's lead author, Henry Dimbleby, tells The Grocer it will go into food security and self-sufficiency "in some detail". But given "the government ignored part one on food poverty," Lang says, "the auguries for part two are not good".
The fall in self-sufficiency is not solely down to Whitehall, however.
Supermarkets have increasingly looked to cater for shopper appetite for cheaper fruit & veg. That has led to intense price competition among the mults, squeezing growers' profits in the process.
In turn that has pushed out many domestic growers, says British Growers Association CEO Jack Ward. Unless shopper attitudes change dramatically, he struggles to see an end to the problem. "Persuading consumers to pay more for their food is very difficult. And we have some of the cheapest food in Europe."
Indeed, only 22% say they would buy British if it were more expensive, according to IGD research. Still, last year's AHDB Trust in Farming report found the number of people feeling positive about British agriculture rose four percentage points on 2019, to 66% in 2020 – an acknowledgement of the role farming has played in ensuring we did not run out of food in the lockdown.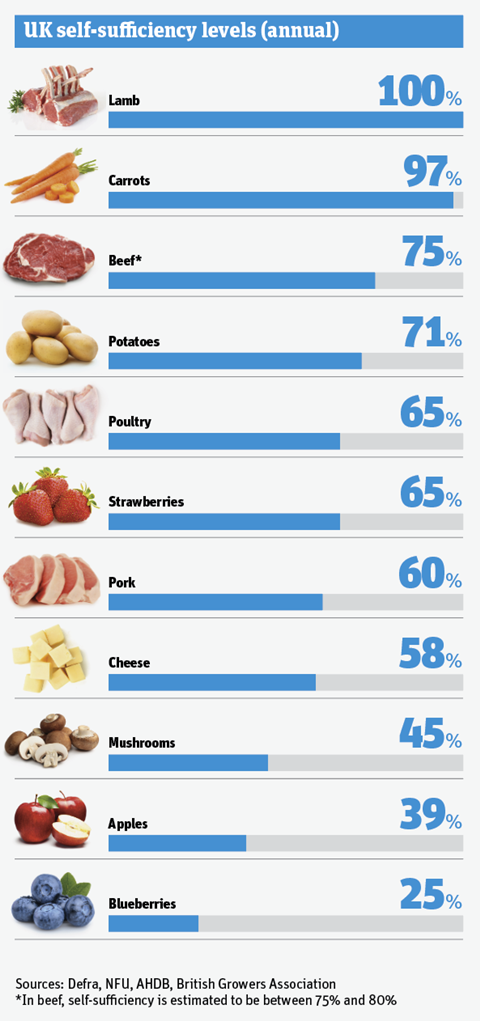 Backing British
Plus, the retailers are increasingly keen to back British. In December, Aldi made a commitment to boost the amount of British food and drink it buys by £3.5bn annually in the next five years. The discounter is also a signatory to the NFU's Fruit & Veg Pledge – a charter aimed at boosting productivity and profitability in British agriculture – alongside Co-op, Lidl and Tesco.
Last month, Morrisons CEO David Potts also urged suppliers to source more food domestically, quipping he preferred biscuits made in "Pontefract rather than Honolulu". "We sell a lot of British produce," Potts said. "But we intend to sell a lot more."
For the retailers, this will mean accepting the potential for self-sufficiency varies widely by crop. Of course, exotic fruits like bananas clearly won't thrive in Britain's less-than-tropical climate. And even crops that are suited to homegrown shores vary in their potential. Take pears as an example. "We're 25%-30% self-sufficient in pears," explains Ward. "Why? If you don't get class one quality, there's no processing demand and no juice demand."
In mushrooms, levels are far higher at 45% – but that figure could go higher still. "There's no logical reason why we don't grow more," Ward explains. Currently, we import most mushrooms from Ireland and Poland, but there is a clear opportunity for British growers. "There's a growing demand due to their association with health and versatility – it's the meat replacement vegetable," he adds.
"Food security should be at the heart of wider government policies and there needs to be an annual reporting system"
And in the case of strawberries, Britain is almost totally self-sufficient from May through to October, and 65% self-sufficient overall. That's down to a concerted effort to increase yields, now 40-50 tonnes per hectare compared with 10 tonnes in the late 1990s, says British Summer Fruits chairman Nick Marston.
Homegrown production tends to boost shopper appetite too, adds Marston. "If you produce something nearer to the market, it can be sold to consumers more quickly and has a better chance of being good quality."
In the case of meat, things get trickier. First, there is the issue of carcase balance. The British preference for certain cuts means less popular options such as offal are exported, while more popular cuts need to be imported. Then there is seasonality. Although Britain produces enough lamb to fulfil its overall needs, it still needs imports at certain times of the year. "Fulfilling demand for lamb at peak times with British produce is difficult. That's why retailers import New Zealand lamb during that period," explains Mike Whittemore, AHDB head of trade and product development.
So essentially, there will always be a large amount of variation by individual product. In terms of the overall picture, Lang believes we should be aiming for the 80% self-sufficiency levels of the 1980s. That's the ideal middle ground between total self-sufficiency, which is "stupid and unlikely to work", and the current government line of "trade is the answer to everything". Which is undesirable, he says, "as it puts you into a dangerous position if geopolitics goes pear-shaped".
That's why food security is a crucial point in the NFU's argument for greater self-sufficiency. "Food security should be at the heart of wider government policies and there needs to be an annual reporting system to ensure we don't allow our domestic food production to diminish," said NFU president Minette Batters, as she urged the government to make self-sufficiency part of the green recovery from Covid-19 in August.
As she suggests, the pandemic is one factor that has pushed food security into the spotlight. Last year's panic-buying certainly demonstrated the importance of a nimble supply chain. In the longer term, experts also point to the climate emergency, which will make food security an ever more critical issue.
The role of gene editing in self-sufficiency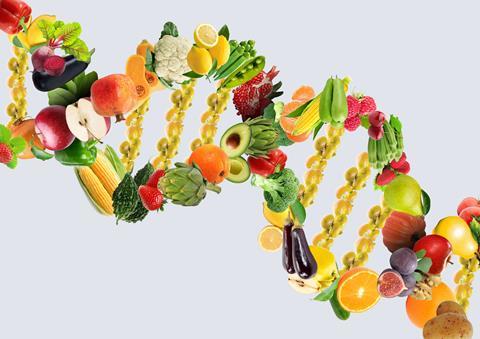 In January, the government launched a consultation on allowing gene editing in the UK, in a bid to move us closer to self-sufficiency.
Proponents of the method argue it would boost productivity by helping plants become more resistant to pests, disease and extreme weather events, while offering a chance to add nutritional value to crops. Not only would this help the environment, they argue, it could be financially beneficial to farmers, who would be less reliant on expensive chemicals.
"If we had a new generation of biological chemistry that was effective, it could make a huge difference [to growing practices] and wouldn't necessarily require vast amounts of grants," says British Growers Association CEO Jack Ward.
It could also speedily boost the storage capabilities of fruit & veg. That's already being achieved through breeding. For example, in recent weeks the UK apple industry announced it had found a way to keep apples in storage for 12 months, raising the possibility of year-round supply.
"With some of the new clones, we can now put a gala apple picked in September into store and still bring it out at peak ripeness with great flavour, pressure and starch and sugar content in July or even August," says British Apples & Pears chairman Ali Capper.
Gene editing could speed up this process. What took 10 years of breeding could take mere months in a laboratory.
Still, there is concern about GE from some in the organic sector. Organic Farmers & Growers CEO Roger Kerr argues it is an "untested technology" that would hamper UK food exports, as it would be a major divergence from rules in the EU, where gene editing is banned. And the Soil Association calls it a "sticking plaster" that could create a backdoor into the UK for GMOs.
"The focus needs to be on how to restore exhausted soils, improve diversity in cropping and reduce dependence on synthetic nitrogen and pesticides," argues Gareth Morgan, head of farming and land use policy. "We want to see immediate progress in these areas rather than using Brexit to pursue a deregulatory agenda."
Leaf CEO Caroline Drummond is pro-GE but she argues it's "not a substitute for good farm management practice". She says it would need careful implementation "to make sure there are no shortcuts" and effective communication to sell it to the public. Given the fears over GMOs, that last point is arguably the biggest stumbling block. Consumers are jittery about GMOs, so GE could be a hard sell.
Climate change
Writing in The Guardian last month, World Bank Group president David Malpass urged all countries to "safeguard and increase food and nutrition security".
"The world's food systems endured numerous shocks in 2020, from economic impacts on producers and consumers to desert locust swarms and erratic weather," he argued. "All indicators suggest that this may be the new normal."
Granted, the UK isn't immune from the effects of erratic weather. In 2019, the potato crop was hit hard by a prolonged wet spell. But we run an extra risk by relying heavily on food from areas that are under particular threat from climate change. Egypt, Morocco and Spain are key sourcing regions and also happen to be water scarce. "As most fruit & veg are 90% water, we're effectively shipping water from these countries," Ward says.
Plus, food security isn't the only argument behind greater self-sufficiency. It could also have benefits on the economy and food poverty.
The economic argument was raised in 2020 when Tim Leunig, a Treasury advisor who now sits on the Trade-Agri Commission, said the UK food sector was "not critically important" to the economy. Agriculture and fisheries "certainly aren't", he argued in emails seen by the Mail on Sunday.
Reacting to Leunig's views, FDF CEO Ian Wright laid out the economic benefits of the UK's agricultural sector. "The Treasury should absolutely be interested in our ability to grow our own food because of international investment in the UK.
"If we aren't producing food, the likes of Nestlé will move its Dalston factory, for example. It manufactures not just for UK consumption: it buys British milk and exports the finished [coffee] product produced there to 80 countries."
Homegrown fruit & veg holds other advantages for the UK economy, adds Marston. "If we produce things in this country, it's not just that we have the finished goods available but it's also creating employment and wealth," he says. "Businesses employ people, pay taxes and spend money in the local economy."
All of which looks particularly attractive at the moment, considering the UK is in the grips of a recession, with unemployment reaching 5%.
In the case of fruit & veg there is currently little chance to export. "If we can trade high-value things, that strengthens the economy and income for farmers," argues Caroline Drummond, CEO of farming and environment organisation Leaf.
More income for farmers means they can invest greater amounts in sustainable techniques, she adds, giving the population access to more fresh produce and its inherent health benefits. Longer-term, she believes this will help the economy. "If I am a lower cost to the NHS because I'm eating the right things, that's a win-win," Drummond says.
This can only happen with buy-in from businesses, though. "If there isn't a market, farmers are not going to start growing it. As lovely as it is to speculate to accumulate, it's a huge risk. Particularly as the capital comes from farmers," she explains. She believes input from other stakeholders – supermarkets and the government – is vital to boosting self-sufficiency.
The current fruit & veg landscape highlights just how crucial that can be. According to statistics from the Food Foundation, just 2.5% of food advertising goes on fruit & veg while 45% goes towards HFSS foods.
The government's obesity strategy is indirectly seeking to address this imbalance by curbing HFSS advertising. But the Food Foundation says retailers similarly need to up their efforts, urging them to stage more seasonal veg promotions and to make fruit & veg aisles more appealing.
Supply chain dynamics must also change to give more profit to primary producers, says Lang. "Out of the £225bn Brits spend on food and soft drinks, 30% goes to retailers, 30% goes to hospitality and 30% to manufacturers – that's 10% for everyone else. It's ludicrous. It should be double. We should say 15% of prices, should go to the primary producer," he says.
In lieu of that, there are certain things growers can control themselves. Infrastructure, for one. At the height of the UK season, polytunnels are key to producing many crops. But glasshouses present the best "quick win" to extend growing seasons, says Marston.
The benefits were demonstrated last month by grower Thanet Earth, which managed to extend the UK cucumber season by a month thanks to the introduction of new lighting and heating in its glasshouses.
The cucumber season now runs for all but two months of the year, with the added benefit that the power generated by the firm's systems is fed back into the national grid, offering enough electricity to power 50,000 homes, the firm says.
So attractive is the prospect even billionaire James Dyson wants in. His agricultural company, Beeswax Dyson Farming, has just constructed a six-hectare glasshouse in Lincolnshire for soft fruits, which generates heat from an on-site anaerobic digester that is said to also provide sustainable electricity for 8,000 homes.
"You need planning policy that enables farms to quickly and easily implement on-farm reservoirs"
That said, switching to glasshouses is easier said than done. They require up-front funding – something most businesses can't afford due to their tight margins. The pace of change in technology can also be prohibitive: British Growers Association's Ward says retrofitting greenhouses that are only 10 years old with the latest tech is "tricky".
Plus, their use has been stymied by "relatively restrictive" UK planning laws, adds Marston. That's in contrast to countries like the Netherlands, where glasshouse estates dot the landscape. These restrictions exist despite Defra figures showing that, out of a total agricultural area of 18.7 million hectares, just 165,000 of these were devoted to horticulture in 2019.
So many in the industry are pinning their hopes on new technology to pull down these barriers to self-sufficiency. One option for soft fruit growers in particular, Marston suggests, is vertical farming. "You don't have the same planning restrictions because you can use existing structures," he says.
There are many other benefits, too. Vertical farming uses less water and space – and interest is growing. While commercial vertical farms are still at least a decade away, trials for growing soft fruits in these facilities are said to be ongoing.
Another technology grabbing the headlines is gene editing, currently subject to a government consultation. Growers argue it could grant respite from erratic weather events, pests and disease.
Meanwhile, NFU Horticulture and Potatoes Board chairman Ali Capper is championing another technology: an "HS2 for water" that moves it from one part of the country to another. That would offer a quick win for fruit & veg, she argues.
"We have enough water falling on the UK but not always in the right places," she says. "You need the water where the good soil is. But you also need planning policy that enables farms to quickly and easily implement on-farm reservoirs so they can create self-sufficiency and sustainability for water needs." Capper's idea to move water could be politically contentious, however. Boris Johnson found this out in 2011 when he proposed moving water from Scotland and Wales into England, sparking anger in both countries.
On the policy front, a less controversial move could be decentralising regional food councils, suggests Lang. He believes they should be set up across the country to help regions "unleash their potential".
Production skills
He also calls for a new generation of agrifood colleges to boost food production skills and encourage people into food roles. "We've got to put some dignity into fruit and farm work so it's not reliant on migrant labour," he says – a point that is particularly pertinent as Brexit creates challenges in securing seasonal workers. "The Netherlands has invested in infrastructure. Utrecht University specialises in greenhouse tech and it trains students up. We've got nothing like that."
Now that Britain has left the EU, it's arguably the best time to start looking at these policies. Because the UK can now decide whether to keep or abandon those inherited from the EU. For example, gene editing is banned under EU rules. And last year, the three-crop rule – designed to promote environmental diversification – was temporarily suspended after NFU lobbying when wheat farmers were battling floods.
At the time, NFU president Minette Batters said her organisation had "never been critical of the environmental intent" of the rule but had "always been concerned that this EU-legacy scheme has never been applied with the flexibility needed".
For Defra's part, it's keeping its cards close to its chest. Its only revelation is that it will introduce a Farming Investment Fund later this year to "help boost productivity whilst also reducing impact on the environment".
Despite the lack of detail, there is some concern from the food industry over the government's direction of travel. The UK's current approach to food policy is riddled with contradictions. The government says it wants to champion UK food production, yet at the same time it is moving subsidies towards environmental aims. It tells us it wants our food to have "world-beating" standards and yet it does not rule out the possibility of lower-standard imports.
"If we're truthful and realistic about having a more sustainable food system, the solution is not to undercut UK producers by scouring the world to find somewhere where employment and/or environmental standards are significantly lower and therefore, costs are lower too," says Ward. "This is a wider debate for society. What is the proper price to pay for food?"
That question highlights the core issue at play in the UK's quest for self-sufficiency: money. Yes, government, businesses and researchers need to join up their approaches before meaningful steps can be taken. But ultimately,
primary producers will require more money to make gains – whether that comes via consumer price hikes or government grants.
As the end of the post-Brexit grace period looks set to test the UK's food import infrastructure, these tough conversations may need to take place soon.
How the Netherlands has achieved greater self-sufficiency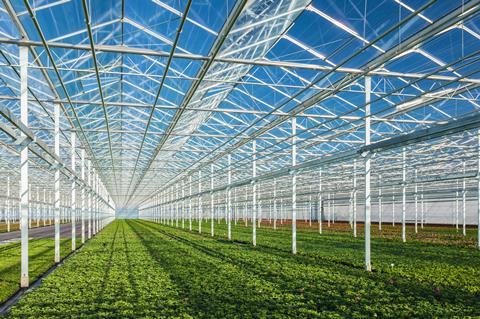 One of our nearest neighbours, spatially and culturally, is the Netherlands. Yet its approach to fruit & veg production is worlds away from that in the UK.
Despite having roughly a third of the UK's crop area, the Netherlands is the second largest exporter of fruit & veg in value terms, behind only the US. Its exports amount to €11.3bn (though it still imports €7.6bn worth, the majority being fruit).
Much of the country's production comes from 4,900 hectares of hi-tech glasshouses, with nutritious soils and low-impact farming practices helping it to boost productivity in field crops like onions.
Despite cultivating less than a fifth of the EU's overall onion area, it accounts for 26.4% of its harvest, according to EU stats.
That comes down to planning. Dutch agricultural ambition was first laid out 20 years ago with a 'twice as much with half as much' approach – they aim to grow double the amount of food with much less input, using fewer pesticides and less water.
"They got business, researchers and government together to work on it," says Amber Wheeler, people's engagement manager at the Food Foundation.
According to British Growers Association CEO Jack Ward, the groundwork for this vision was laid even earlier.
"While we were busy introducing [farming] grant schemes during the 1960s and 1970s, they ploughed a lot of money into education," Ward says, hailing the University of Wageningen as crucial to its success.
Wageningen, one of the foremost food research universities in the world, has spawned an area known as 'Food Valley' – in essence, a Silicon Valley for the food industry containing a group of food companies aiming to feed the world by 2050.
Similar investment is being called for here. "It's really important we have appropriate educational courses in this country," says British Summer Fruits chairman Nick Marston. "We need to work on the image of horticulture and farming as an employer [because] young people don't think of horticulture as a career if they don't come from a farming family."
Still, that's one issue the Netherlands hasn't solved. According to its main young farmers organisation, the number of farms in the country has fallen by 6% to 52,000 since 2017. That's despite the creation of a €75m government fund in 2017, designed to encourage more young people into the sector.