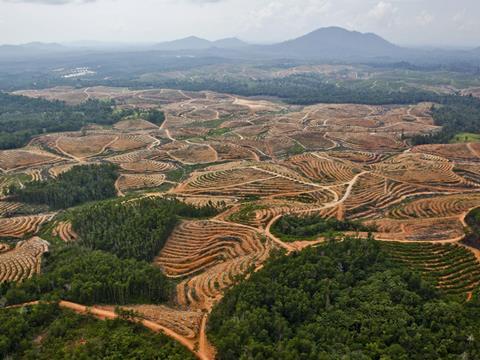 Retailers and manufacturers are failing in their commitments to eliminate unsustainable palm oil from their supply chains after "a decade of promises", a new report from WWF claims.
Some of the country's biggest brands pledged to end deforestation from their use of palm oil by 2020, but for many it remains a goal far out of reach.
Major brands including Whitbread, Greggs and Associated British Foods performed particularly poorly, while Marks & Spencer and the Co-op were the only British brands judged to be "leading the way".
The report surveyed companies on their practices in sourcing palm oil, awarding each a final score out of 22. Ferrero was the only brand to score more than 20 points, evidence according to WWF that solely sourcing sustainable palm oil is achievable.
"There's no excuse not to be buying sustainable palm oil," said Emma Keller, head of commodities at WWF. "These companies need to put their money where their mouth is and invest on the ground to clean up the industry."
"2020 must be the year of action."
Many companies now subscribe to the Roundtable on Sustainable Palm Oil, which aims to provide verifiable assurances of sustainable and deforestation-free palm oil. However, recent reports have challenged the integrity of the certification, with RSPO growers allegedly linked to a series of Indonesian forest fires last year.
Greggs said: "One hundred per cent of the palm oil used in our products meets Roundtable on Sustainable Palm Oil standards. As proud members of the RSPO we recognise there is more work to do in our supply chain to move to segregated palm oil, and we are committed to working in partnership with our supply base and the wider industry to drive this change."
Whitbread declined to comment.